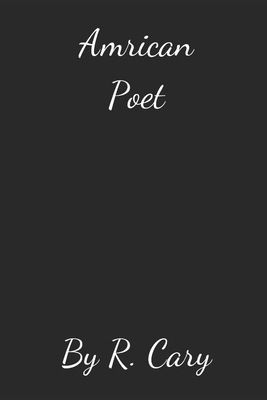 Email or call for price.
Special Order - Call 804-788-1594 or email info@fountainbookstore.com for availability
Description
---
Amrican Poet brings you into the world of R. Cary through over 50,000 words of relentless pressure on your reality. Just as you believe the beating and pulsating of your existence will cease, you will find yourself deeper into questions of self and reality, trapping you in the 'crux' of living in darkness to know the light. Amrican Poet is built to 'break your reality' and to push the genres of poetry to deliver a symposium of poems put together as one story; one story of human faith and human pain, showing what it means to live in the purgatory of the two and what it means to step out from the 'crux' and into the light. Through Amrican Poet you are brought into a journey of self discovery and its binding attachment to us, as a burden of being human, to become our best selves and find our purpose in existence. Using metaphors of blind faith and pure human belief that this day, this day may be better through a simple decision to step into the light as a matter of choice, we can let go of our history of pain and into our true selves, giving our stories lived as a narration of choice.Each day you have a canvas to paint, your world to give your inner eternal self as a muse of human light through the path of the Good. Let your light be your path, as a gift to this world, painting your artistry as a person of human blind faith. This is your purpose, to let the light grow, bringing your journey to others as a human work of art.Start your journey. It is yours to take.Amrican Poet features: 'Ravaging Pain', 'Fractures', 'Darkside', 'Blonde Beast', 'Endurance, 'Golden Lion', 'Infinity', 'Elysium', 'Thunder', 'Phoenix', 'Art of Self', 'Human As Art'.Thanks, R. Carywww.rcary.co.