Copycat Recipes: ITALIAN CUISINE. 100+ Step-by-Step Tasty Recipes from Olive Garden, Maggiano's Little Italy, Little Caesar's, Mellow M (Paperback)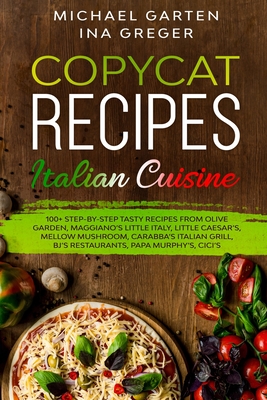 $10.45

Comes From Our Warehouse - Usually Ships in 3-10 Days
(This book cannot be returned.)
Description
---
Love dining out with family or friends, but hate the drive, finding parking, the crowds and noise, the long wait for your order and after all that, being faced with an exorbitant bill?
This is exactly why Michael Garten and Ina Greger created the F.A.S.T. Method cookbook: now you can prepare your favourite restaurant meals in the comfort of your own home, wasting less time, saving money and become a genius in your own kitchen.
★★★ What is the F.A.S.T. Method? ★★★
Our recipes are based on four simple principles
① Flavourful we selected the tastiest ingredients to create our special dishes. The benefit is that you can control the spiciness, adjust the salt and sugar content and even add some extra vegetables for the kids. Our recipes are made with fresh and wholesome ingredients.
② Accurate the instructions are written using the U.S. metric system, so you don't have to waste time converting volumes or temperature. Each recipe has all the information you need: difficulty level, servings, preparation time, cooking time, ingredients and instructions. All recipes are professionally edited for accuracy.
③ Step-by-Step from the "Easy Level" to the "Challenging Level", you can't go wrong Each recipe is explained in detail, with bulleted ingredient lists and sequentially numbered instructions. The recipes are easy to read and follow.
④ Tested we know you love the taste of your favourite restaurant dishes. That is why each of our 100+ recipes in the cookbook have passed through our test kitchen to ensure the flavour is authentic, just like you will find at your favourite restaurant.
★★★ What's Inside This Book? ★★★
Do you have a craving for your favorite restaurant's special meals? Do you miss Maggiano's finest? Or do you want to enjoy Papa's Murphy's delicious pizza? Well, this cookbook brings you an exclusive chance to add a variety of your favorite restaurant meals to your own menu at home. By browsing this recipe book, you will get to experience a range of cuisines; whether from Maggiano's Little Italy, Carrabba's Italian Grill, Olive Garden, Mellow Mushroom, BJ's Restaurants, Little Caesar's, Papa Murphy's or Cici's finest cuisine, you can have it all.
Cooking an authentic and delicious meal at home is not a problem anymore, just scroll down to your favorite restaurant's section and pick a recipe of your choice. Each section is further divided into subsections to create a small but comprehensive menu consisting of breakfast, brunch, appetizers, salads, soups, pasta, pizza, sandwiches, burgers, stews, grilled meat, and desserts.This cookbook can literally put an end to all your struggles of finding an apt copycat recipe of a popular restaurant. Since all these things are at your fingertips, put on your apron and switch on your chef mode to do some cooking like the professionals with complete ease and convenience at home. Surprise your friends and family with a restaurant-style meal and enjoy the ultimate variety of flavors that you have been craving for.

If you love mouthwatering food, this cookbook is for you Become your family's own gourmet chef or amaze your friends with the restaurant style dishes you entertain them with.
✓ Download the cookbook to your favourite devices such as Kindle, iPhone, iPod, Android cellular phone, tablet, laptop, or computer with Amazon's free reading Kindle App.
Would you like to know more? Download now to prepare the best recipes in the easiest and quickest way