Abstract Objects: For and Against (Synthese Library #422) (Paperback)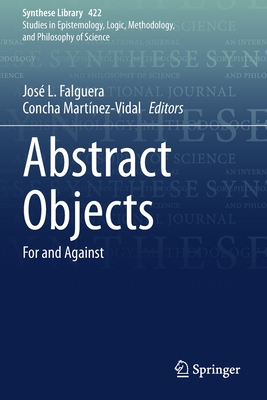 $179.99

Comes From Our Warehouse - Usually Ships in 3-10 Days
Description
---
PrefaceJos L. Falguera and Concha Martinez-Vidal
1. Introduction: Recent disputes on the existence on abstract objects: an overviewMatteo Plebani Part I. Enhanced Indispensability and Type Theories2. Purely Physical Explananda: Bistability in PerceptionSam Baron
3. Description, Explanation and Ontological CommitmentConcha Martinez-Vidal and Navia Rivas-de-Castro
4. Typed Object TheoryEdward Zalta Part II. Fictionalism or Realism in Philosophy of Mathematics5. Contingent Abstract ObjectsOt vio Bueno
6. Is There a Fact of the Matter about the Existence of Abstract Objects?Mary Leng Part III. Fictionalism or Realism in Philosophy of Empirical Sciences7. An ensemble-plus-standing-for account of scientific representation: no need for (unnecessary) abstract objectsJos A. Diez
8. The Nature of Scientific Models: Abstract Artifacts that Determine Fictional SystemsXavier de Donato-Rodriguez and Jos L. Falguera
9. The Scope and Power of Abstraction in ScienceStathis Psillos
10. Models and DenotationFiora Salis, Roman Frigg, and James Nguyen Part IV. Fictionalism or Realism in Philosophy of Language11. Fictional Co-identification: The Explanatory Lightweight of RealismManuel Garcia-Carpintero
12. What is the difference between Hamlet and me? Fiction, metaphysics and the nature of our moral thinkingSof a Miguens
13. Abstract Objects and the Core-Periphery Distinction in the Ontological and Conceptual Domain of Natural LanguageFriederike Moltmann
14. How to Vindicate (Fictional) CreationismAlberto Voltolini Part V. Fictionalism or Realism in Moral Philosophy and Philosophy of Arts15. Moral Folkism and the Deflation of (Lots of) Normative and MetaethicsMark Balaguer
16. Methodology in the ontology of artworks: exploring hermeneutic fictionalismElisa Caldarolo
17. A Realist-Friendly Argument for Moral Fictionalism: Perhaps You'd Better Not Believe ItChristopher Jay.