The Paradox Hotel: A Novel (Hardcover)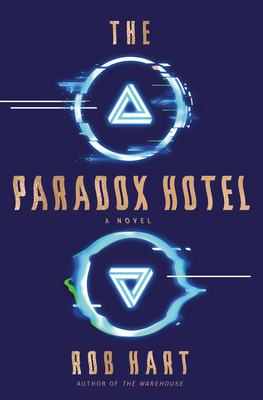 $28.00

Comes From Our Warehouse - Usually Ships in 3-10 Days
Staff Reviews
---
A crazy time-travel novel that is also a meditation on loss. The main character is mourning the loss of her lover as she tries to hold on to her job as "time cop" that is also frying her brain. I really loved this story with its many and varied villains and exploration of what regular time travel would do to the human brain. The protagonist keeps up her work to catch glimpses of the woman she loves in the form of kind of time-ghosts in the hotel where she works for wealthy people who go back in time and try to mess it up for sport and profit. Sometimes our biggest villains are ourselves as she learns while pushing away the people remaining in her life who wish to help.
— From
Kelly
Description
---
"Time travel, murder, corruption, restless baby dinosaurs, and a snarky robot named Ruby collide in this excellent, noir-inflected, humor-infused, science-fiction thriller."—The Boston Globe
 
An impossible crime. A detective on the edge of madness. The future of time travel at stake. From the author of The Warehouse . . .

ONE OF THE BEST BOOKS OF THE YEAR: NPR, Kirkus Reviews

January Cole's job just got a whole lot harder.

Not that running security at the Paradox was ever really easy. Nothing's simple at a hotel where the ultra-wealthy tourists arrive costumed for a dozen different time periods, all eagerly waiting to catch their "flights" to the past.

Or where proximity to the timeport makes the clocks run backward on occasion—and, rumor has it, allows ghosts to stroll the halls.

None of that compares to the corpse in room 526. The one that seems to be both there and not there. The one that somehow only January can see.

On top of that, some very important new guests have just checked in. Because the U.S. government is about to privatize time-travel technology—and the world's most powerful people are on hand to stake their claims.

January is sure the timing isn't a coincidence. Neither are those "accidents" that start stalking their bidders.

There's a reason January can glimpse what others can't. A reason why she's the only one who can catch a killer who's operating invisibly and in plain sight, all at once.

But her ability is also destroying her grip on reality—and as her past, present, and future collide, she finds herself confronting not just the hotel's dark secrets but her own.

At once a dazzlingly time-twisting murder mystery and a story about grief, memory, and what it means to—literally—come face-to-face with our ghosts, The Paradox Hotel is another unforgettable speculative thrill ride from acclaimed author Rob Hart.
About the Author
---
Rob Hart is the author of The Warehouse and the Ash McKenna crime series, and he co-wrote Scott Free with James Patterson. He's worked as a book publisher, a reporter, a political communications director, and a commissioner for the city of New York. He lives on Staten Island.
Praise For…
---
"Smashes together some of the best elements of science fiction and crime to deliver a story in which time is broken . . . As funny and entertaining as it is dark and complex. [A] wildly entertaining combination, along with Hart's relentless pacing, make this a rare hybrid that has something for everyone."—NPR

"Entrancing in its pull right from the start . . .  Science fiction mixed with the aching pangs of loss and romance will pull the reader towards January Cole's side and bring them along for a thrill ride."—San Francisco Book Review

"[A] tale of death and destruction down the timelanes . . . [Hart advances] his detective-pursuing-a-master-criminal plot neatly and suspensefully and satisfyingly, moving from one new surprising clue to another."—Locus

"Electric . . . a tense, taut cinematic kick to the teeth."—Chuck Wendig, New York Times bestselling author of Wanderers

"Wildly inventive and endlessly entertaining . . . the time-twisting, sci-fi, noir-tinged mystery with heart I never knew I needed in my life."—Riley Sager, New York Times bestselling author of Survive the Night

"A tricky and trippy mystery that keeps the reader guessing and thinking well past the very last page."—Wesley Chu, New York Times bestselling co-author of The Red Scrolls of Magic

"Wonderfully twisty, smart, and funny and, ultimately, heartbreaking . . . Hart continues to flex his muscles as one of crime's best world builders."—Rachel Howzell Hall, New York Times bestselling author of These Toxic Things

"The perfect intersection of noir mystery, brilliant sci-fi, and haunted-house chills."—Peter Clines, New York Times bestselling author of The Fold

"Not only a razor-sharp time-travel mystery but a moving story of love, memory, and coming to terms with loss . . . It's also hilarious and as suspenseful as hell."—Meg Gardiner, Edgar Award–winning author of the UNSUB series

"Twisty, twisted, relentlessly entertaining, and like all Hart's work, layered with larger ideas . . . You don't read it so much as devour it."—Marcus Sakey, internationally bestselling author of the Brilliance series

"Stellar. The twists keep coming . . . in this impressive melding of creative plotting and three-dimensional characters. Hart remains a writer to watch."—Publishers Weekly (starred review)

"Hart delivers a riveting read likely to win him scores of new fans. Funny, thrilling, poignant, and profound."—Kirkus Reviews

"Jam-packed and extremely fun . . . This is a novel of suspense, thrills, terrific science fiction, and ideas—big ideas—but it also has a sense of humor and a soft heart."—BookReporter

"This wildly ambitious, well-executed genre-bender is suspenseful, clever, and funny."—Booklist