The Passengers (Hardcover)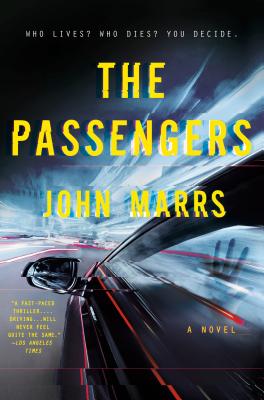 Staff Reviews
---
Yikes, y'all. This is a gripping suspenseful tale of what happens when autonomous cars go wrong. Eight people are in transit to various places when their routes get canceled and a strange voice announces that they have a little less than 3 hours to live. There is a jury of their peers set to choose who lives and who dies (and in what order) and this is just as grisly as you'd expect. As we get to know each passenger, we learn that each has dark secrets and the jury is left to learn their secrets and decide who merits saving. Don't read this if you have somewhere to be, you won't want to put it down!
— From
Andi's Picks 2019
Description
---
You're riding in your self-driving car when suddenly the doors lock, the route changes and you have lost all control. Then, a mysterious voice tells you, "You are going to die."
 
Just as self-driving cars become the trusted, safer norm, eight people find themselves in this terrifying situation, including a faded TV star, a pregnant young woman, an abused wife fleeing her husband, an undocumented immigrant, a husband and wife, and a suicidal man.
 
From cameras hidden in their cars, their panic is broadcast to millions of people around the world. But the public will show their true colors when they are asked, "Which of these people should we save?...And who should we kill first?"
About the Author
---
John Marrs is the author of The One which is being made into a ten-part Netflix series, as well as The Good Samaritan, Her Last Move, When You Disappeared, and Welcome to Wherever You Are. Until recently, he worked for twenty-five years as a freelance journalist based in London, England, where he interviewed celebrities from the world of television, film, and music for national newspapers and magazines. He has written for publications including the Guardian's Guide and Guardian Online, Total Film, the Huffington Post, Empire, Q, GT, the Independent, S Magazine, and Company. He is now a full-time author.
Praise For…
---
"Virtually every plot beat seems plausible and imminent…Marrs laces his fast-paced tale with delectably mordant satire."—The Washington Post

"A fast-paced thriller that offers a discourse on morality and ethics…Marrs excels at thrilling readers by creating a real sense of tension and delivering a believeable, harsh criticism of modern society through this dark and entertaining story. Driving…will never feel quite the same."—LA Times

"One can almost hear the Hollywood music in the background as the action unfolds; the plot twists are truly gripping...Summer blockbuster entertainment at its best. All that's missing is a slo-mo pre-disaster montage."—Kirkus Reviews
 
"I absolutely loved it. It sucked me right in and kept me gripped right until the end. With some real jaw dropping moments, it was an edge of your seat read."—Claire Allen, USA Today bestselling author of Her Name is Rose
 
"[A] savagely clever near-future thriller. Provocative, terrifying and compulsive."—Cara Hunter, author of Close to Home
 
"One of the most exciting, original thriller writers out there. I never miss one of his books."—Simon Kernick, author of We Can See You
 
"Not only is John Marrs a master of the written word, but he is also a master of character development, storyline twists, suspense, relevance, intelligent writing and the gift of creating something inherently unique."—Totally Booked

"The Passengers is pure genius: shocking, menacing, and utterly thrilling. I bloody loved it!"—Emma the Little Bookworm blog

"One of the most twisty thrillers I've read."—The Bookwormery

More Praise for John Marrs

"A shock on every other page."—The Wall Street Journal

"Marrs's engrossing, believable thriller raises intriguing questions about our science-tinged future."—Booklist

"Like a lengthy episode of the dark TV series Black Mirror...so expertly written it gets you thinking that it could happen in real life."—Peterborough Telegraph

"It's a real joy to read something totally original, smart, and thought-provoking."—Peter James, international bestselling author of Dead If You Don't  

"Wonderful concept, ridiculously entertaining...an absolute pleasure, the malevolence and impishness of a young Roald Dahl."—T. A. Cotterell, author of What Alice Knew

"Engaging concept, craftily executed."—Adrian J. Walker, author of The End of the World Running Club