Waiting for Tom Hanks (Paperback)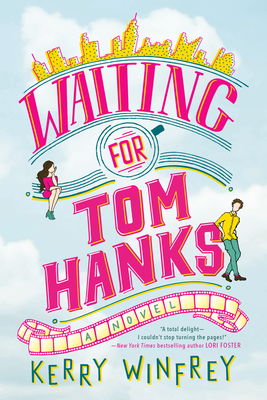 Staff Reviews
---
Annie Cassidy was raised on Rom Coms and dreams of being a screenwriter. She's waiting to meet her Tom Hanks, the perfect guy, who's sweet, sensitive and charming. When a major Rom Com production comes to her neighborhood in Ohio, it seems like fate when she lands a job as the director's assistant. She meets lead actor Drew Danforth and he quickly becomes a thorn in her side. And yet...could he be her Tom Hanks? No way! Right? Winfrey twists and plays with many tropes of the genre in this funny and charming book. I can tell she had a great time writing it!
— From
Carl
Description
---
A rom-com-obsessed romantic waiting for her perfect leading man learns that life doesn't always go according to a script in this delightfully charming and funny novel.

Annie Cassidy dreams of being the next Nora Ephron. She spends her days writing screenplays, rewatching Sleepless in Seattle, and waiting for her movie-perfect meet-cute. If she could just find her own Tom Hanks—a man who's sweet, sensitive, and possibly owns a houseboat—her problems would disappear and her life would be perfect. But Tom Hanks is nowhere in sight.

When a movie starts filming in her neighborhood and Annie gets a job on set, it seems like a sign. Then Annie meets the lead actor, Drew Danforth, a cocky prankster who couldn't be less like Tom Hanks if he tried. Their meet-cute is more of a meet-fail, but soon Annie finds herself sharing some classic rom-com moments with Drew. Her Tom Hanks can't be an actor who's leaving town in a matter of days...can he?
About the Author
---
Kerry Winfrey is the author of Love and Other Alien Experiences and Things Jolie Needs to Do Before She Bites It. She's written for many websites, including HelloGiggles. When she's not writing, she's most likely baking yet another batch of cookies or watching far, far too many romantic comedies. She lives with her husband, baby, and dog in the middle of Ohio.
Praise For…
---
Praise for Waiting for Tom Hanks

"An endearing, klutzy heroine elevates this utterly charming romance [and] the plot's many moving pieces add complexity. Chloe, lovable Uncle Don, and the local coffee shop's colorful characters provide humor and heart in just the right places."—Publishers Weekly (starred review)

"What a total delight it was to read this book! A compelling, heartwarming, hilarious rom-com. I couldn't stop turning the pages!"—New York Times bestselling author Lori Foster   
 
"Winfrey's sweet, hilarious novel is full of klutzy and charming characters, heartwarming moments,and laugh-out-loud one-liners. This quick read is sure to delight readers looking for an escape of everydaylife, especially fans of Mary Ann Marlow and Helena Hunting."—Booklist

"This sweet story is a warm, favorite-sweater-wearing hug for anyone who believes that true love doesn't only happen in the movies."—kc dyer, author of Finding Fraser

"The perfect blend of humor and romance...Waiting for Tom Hanks is a romantic comedy full of heart, humor, and a delicious dose of reality."—Wandereader

"Just try to resist falling in love with this guy, who turns out to be fully Hanks-ian. The deluge of rom-com trivia on Annie's path to happiness will send you on a Netflix spree, and there's a great indie music playlist and jokes for D&D enthusiasts sprinkled along the way as well. Calling all girls and women downtrodden by life and love—happiness awaits!"—Kirkus Reviews

"A love letter to rom-coms in the form of a sweet love story."—NPR

"Kerry Winfrey offers readers a fizzy rom-com with all the humor, heart, and the undercurrent of melancholy of the Nora Ephron rom-coms she pays tribute to within its pages."—Entertainment Weekly

"Kerry Winfrey's feel-good romance is an ideal ode to the genre."—OprahMag

"If you love everything about Tom Hanks, you gotta get Waiting for Tom Hanks…"—Frolic