Salvation Day (Hardcover)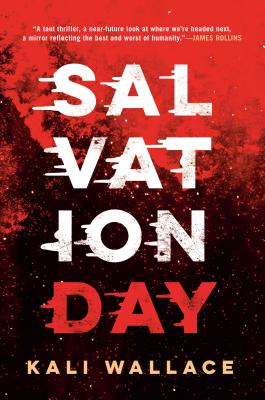 Staff Reviews
---
This white-knuckle read takes place in space and features a diverse collection of multi-faceted characters who are in danger of betrayal or death on every page! A massive exploration vessel was abandoned a decade before by the Earth's government because it contains a deadly virus and the entire dead crew save one. The survivor is a young man closely related to the highest of government officials. A separatist religious cult wishes to take over the ship as its new home and his genetic fingerprint is the key they need to get onboard. Kidnapping is just the start of this elaborate plan. The best and worst of humanity is visible page after page. I could not put it down!
— From
Kelly
Description
---
A lethal virus is awoken on an abandoned spaceship in this incredibly fast-paced, claustrophobic thriller.

They thought the ship would be their salvation.
 
Zahra knew every detail of the plan. House of Wisdom, a massive exploration vessel, had been abandoned by the government of Earth a decade earlier, when a deadly virus broke out and killed everyone on board in a matter of hours. But now it could belong to her people if they were bold enough to take it. All they needed to do was kidnap Jaswinder Bhattacharya—the sole survivor of the tragedy, and the last person whose genetic signature would allow entry to the spaceship.
 
But what Zahra and her crew could not know was what waited for them on the ship—a terrifying secret buried by the government. A threat to all of humanity that lay sleeping alongside the orbiting dead.
 
And then they woke it up.
About the Author
---
Kali Wallace has had a lifelong passion for both science and storytelling, and she earned a PhD in geophysics before becoming an author. Salvation Day is her first novel for adults. She is also the author of two young adult novels, Shallow Graves and The Memory Trees; the children's fantasy novel City of Islands; and a number of short stories. After spending most of her life in Colorado, she now lives in southern California.
Praise For…
---
Praise for Salvation Day

"Kali Wallace, the world needs you--and this book. Salvation Day is a taut thriller, a near-future look at where we're headed next, a mirror reflecting the best and worst of humanity. It is all that, and so much more. I'd follow the rebellious heroine Zahra anywhere--especially into another nail-biter of a story like this."--James Rollins, New York Times bestselling author of The Demon Crown

"Salvation Day is a masterful story set at a screaming pace. It had me holding on for dear life all the way through. I loved it."—Mur Lafferty, Hugo Award-winning author of Six Wakes

"Breakneck pace with real thrills and chills—plus lots of meaty stuff to think about. One of the major science-fiction debuts of 2019. Kali Wallace is a force to be reckoned with."—Robert J. Sawyer, Hugo Award-winning author of Quantum Night

"A smart, gripping thriller you just can't put down. Explosions, betrayals, morally gray choices and twisty secrets; all set in the world that comes after the end of ours. Perfect for fans of Aliens and locked spaceship murder mysteries." – Kameron Hurley, Hugo Award-winning author of The Light Brigade

"More than a science fiction novel, it's a good old-fashioned thriller set in the future--every page filled with breadth and scope and twists and turns.  An exciting, dangerous, magical quest for truth."—Steve Berry, New York Times bestselling author of The Malta Exchange

"A suspenseful journey with complex characters and a riveting universe that is as bold as it is fascinating, Salvation Day is a space thriller that will infect you with its gripping narrative as much as its mind-bending viruses."--Peter Tieryas, author of Mecha Samurai Empire

"Wallace delivers an exciting sf thriller that shines a light on government secrets, shifting blame, and elitism and class in a future society. The tight plot and well-developed characters create an engrossing read."--Library Journal