The Other Black Girl: A Novel (Hardcover)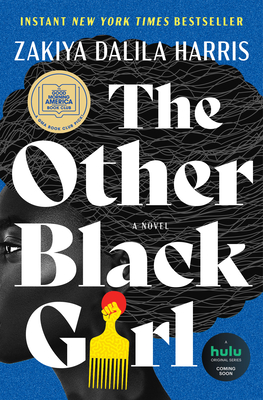 Staff Reviews
---
I have been staring at this document trying to think of how to start this review without bad language for at least three minutes - that's how good this book is, y'all. Harris has a background in publishing and I love imagining how this story came to life in her mind. Nella is the only Black woman at the publishing company that employs her and she fights micro (and macro!) aggressions day in and day out. When Hazel May McCall first shows up, Nella is excited to have a potential ally and friend. After an initial rapport, Hazel starts to seem less like a work wife and more like a Stepford wife ad Nella quickly finds herself in a precarious job situation. Then the anonymous notes start to arrive… This gives me the same vibes as Alyssa Cole's When No One is Watching and I am very, very into it.
— From
Andi's Top 10 of 2021!
June 2021 Indie Next List
---
"This is the tale of two Black women co-workers in the cutthroat publishing industry trying to determine if they are friends or enemies. A literary fiction tale with a side of suspense, this expertly woven critique on society is bound to keep readers on the edge of their seats."
— Kirsten Wilson, The Snail on the Wall, Huntsville, AL
Description
---
INSTANT NEW YORK TIMES BESTSELLER

A Good Morning America and Read with Marie Claire Book Club Pick and a People Best Book of Summer

Named a Most Anticipated Book of 2021 by Time, The Washington Post, Harper's Bazaar, Entertainment Weekly, Marie Claire, Bustle, BuzzFeed, Parade, Goodreads, Fortune, and BBC

​​Named a Best Book of 2021 by Time, The Washington Post, Esquire, Vogue, Entertainment Weekly, The Boston Globe, Harper's Bazaar, and NPR

​​​​Urgent, propulsive, and sharp as a knife, The Other Black Girl is an electric debut about the tension that unfurls when two young Black women meet against the starkly white backdrop of New York City book publishing.

Twenty-six-year-old editorial assistant Nella Rogers is tired of being the only Black employee at Wagner Books. Fed up with the isolation and microaggressions, she's thrilled when Harlem-born and bred Hazel starts working in the cubicle beside hers. They've only just started comparing natural hair care regimens, though, when a string of uncomfortable events elevates Hazel to Office Darling, and Nella is left in the dust.

Then the notes begin to appear on Nella's desk: LEAVE WAGNER. NOW.

It's hard to believe Hazel is behind these hostile messages. But as Nella starts to spiral and obsess over the sinister forces at play, she soon realizes that there's a lot more at stake than just her career.

A whip-smart and dynamic thriller and sly social commentary that is perfect for anyone who has ever felt manipulated, threatened, or overlooked in the workplace, The Other Black Girl will keep you on the edge of your seat until the very last twist.
About the Author
---
Zakiya Dalila Harris spent nearly three years in editorial at Knopf/Doubleday before leaving to write her debut novel The Other Black Girl. Prior to working in publishing, Zakiya received her MFA in creative writing from The New School. Her essays and book reviews have appeared in Cosmopolitan, Guernica, and The Rumpus. She lives in Brooklyn.
Praise For…
---
"Filled with twists both unsettling and unexpected . . . such a timely read."
— TIME

"A thrilling, edgier Devil Wears Prada that explores privilege and racism."
— Washington Post

"Harris' genre-bending evisceration of workplace privilege is set to become the debut of the summer."
— Entertainment Weekly

"Harris isn't afraid of taking risks in this book, pushing the plot to thrilling heights. As extraordinary as The Other Black Girl's story becomes, it's rooted in all-too-real social problems."
— Oprah Daily

"Wholly earned brilliance. Harris makes her entrance as an author with singular style. Whatever she does next might seem quieter, but watch for it: It will be brilliant."
— NPR

"Funny and subversive, this debut about the trials of a Black assistant at a mostly white publishing house uses suspense, horror and satire to bring home the toll of workplace racism."
— People

"A debut novel that is the perfect mix of social commentary and fast-paced thriller. Poignant, daring, and darkly funny, The Other Black Girl will have you stressed and exhilarated in equal measure through the very last twist."
— Vulture

"Riveting, fearless, and vividly original. This is an exciting debut."
— EMILY ST. JOHN MANDEL, New York Times bestselling author of The Glass Hotel

"Witty, inventive, and smart, The Other Black Girl goes deeper to take on class privilege, race, and gender in a narrative that slyly plays along the edges of convention. Zakiya Dalila Harris's debut is a brilliant combustion of suspense, horror, and social commentary that leaves no assumption unchallenged and no page unturned."
— WALTER MOSLEY, internationally bestselling author of Devil in a Blue Dress

"A satire of the clueless racial politics at a prestigious literary house with, in its second half, a horror-movie twist."
— Wall Street Journal

"Filled with twists and moments that make you think, Zakiya Dalila Harris' The Other Black Girl is the sharp, compulsive thriller you need this June."
— Shondaland

"A pulpy, joyous thrill ride of a book."
— Vox

"Harris is excellent at capturing the way a job can become a person's whole identity, and takes readers on a bracing, whip-smart, piercingly funny trip into a supposedly enlightened industry — and world — where racism, classism, and sexism all conspire to destabilize anyone who isn't willing to play the game."
— Refinery 29

"Harris succeeds in capturing office machinations with a deftness and grace that brings it all to life… [Her] writing propels you forward through the story. She can deliver paragraphs of back story and inner monologue without leaving her reader feeling overwhelmed or disengaged."
— New York Times Book Review

"Initially satirical and then spectacularly creepy [...] This unique thriller [has] echoes of both Jordan Peele and, in the end, George Orwell."
— Washington Post

"A sly satire and thriller rolled into one."
— BBC

"[A] perceptive exploration of racism in publishing, wrapped up in a whip-smart story of young women at war in the workplace."
— Los Angeles Times

"This twisty thriller will resonate with anyone who has struggled to find her voice as the only Black woman in the room."
— Essence

"[A] brilliant debut …The novel takes some bold stylistic risks that pay off beautifully, leaving the reader longing for more of Harris's words and unique view on the world."
— Vogue

"Swerves beyond the conventions of the genre, into territory between psychological thriller and sci-fi […] Harris reinvents the office novel."
— The New Republic

"A whip-smart and dynamic thriller and sly social commentary . . . will keep you on the edge of your seat until the very last twist."
— The Rumpus

"Very, very sharp social commentary about racial tension and bias…my money's on it being the 'it' book of the summer."
— Deputy Editor of The New York Times Book Review Tina Jordan on WNYC's All of It

"OMG, as the kids say. This is the funniest, wildest, deepest, most thought-provoking ride of a book. I have been Nella. Every black woman has been Nella. Zakiya Dalila Harris has pulled back the curtain on the publishing industry, but in doing so, she has also perfectly captured a social dynamic that exists in job cultures as varied as tech, finance, academia, even retail and fast food. Oh, beware of the 'OBGs'—Other Black Girls—y'all. As we should all be aware of the psychic cost to black women of making ourselves palatable to institutions that use our cultural cache for their own ends while disregarding any part of our hearts and minds that they either can't or won't understand."
— ATTICA LOCKE, New York Times bestselling author of Heaven, My Home

"While the plot takes a darker turn into thriller territory, this read is ideal for anyone who has ever felt manipulated, threatened, or dismissed in the workplace."
— Fortune

"Electrifying and ingenious, Zakiya Dalila Harris's The Other Black Girl is essential reading!"
— TERRY MCMILLAN, New York Times bestselling author of It's Not All Downhill From Here

"A funny, sometimes creepy indictment of the book business."
— New York Times

"The Other Black Girl is unlike anything I've ever read before. Wholly original, powerful, and a gripping page turner. This is the kind of book that turns authors into stars and the readers into rabid fans. I cannot wait to see what Zakiya does next."
— PHOEBE ROBINSON, bestselling author of You Can't Touch My Hair

"A brilliant, twisty, and highly relevant thriller…Perfect for fans of Alyssa Cole's When No One Is Watching, or Amina Akhtar's #FashionVictim."
— Lit Hub

"[A] buzzy debut set in publishing that explores race and class in the workplace."
— The Guardian

"Wise and funny and it does what the best books do—it opens up a whole world of two young Black women in the very white world of publishing, making the narrative both eye-opening social commentary and a delicious thriller. A mega-talented new author who deserves all the buzz building for her now—and every accolade she is surely going to get."
— CAROLINE LEAVITT, New York Times bestselling author of Pictures of You and With or Without You

"[An] edgy, satirical thriller."
— Parade

"A can't-miss title for 2021."
— Harper's Bazaar

"A dazzling, darkly humorous story…the novel overflows with witty dialogue and skillfully drawn characters, its biggest strength lies in its penetrating critique of gatekeeping in the publishing industry and the deleterious effects it can have on Black editors. This insightful, spellbinding book packs a heavy punch."
— Publishers Weekly (starred)

"A big-buzzing, thriller-edged literary debut."
— Library Journal

"An intimate and specific look at the joys and pains of being a Black woman, especially one working in a majority-white industry... The Other Black Girl is hysterical, intimate, and warm—and bristling with dread. Every page pulls you deeper into the nightmare, coiling tighter and tighter until before you know it, there's no escape."
— ELISABETH THOMAS, author of Catherine House

"This thriller will be one you won't be able to put down."
— Today Show

"The Other Black Girl is a brilliant, witty, thought-provoking book readers will find hard to put down. Full of twists, Harris has delivered a riveting account of the power dynamics Black women must navigate."
— MAURICE CARLOS RUFFIN, author of We Cast a Shadow

"A psychological thriller for the modern-day working girl . . . filled with suspenseful twists and turns."
— PopSugar

"In this deliciously scathing send-up of the blindingly white world of New York City book publishing, a big house hires their second Black editorial assistant, and chaos ensues."
— Electric Literature

"Racist behavior in the workplace, white colleagues' awkward attempts to pretend it doesn't exist, and the exhaustion of being Black in white spaces are all encapsulated in a pitch-perfect way by Harris . . . this compelling debut thriller will be in demand; a must for public libraries."
— Booklist (starred)

"Slyly brilliant . . . a nuanced page-turner, as sharp as it is fun. A biting social satire–cum-thriller; dark, playful, and brimming with life."
— Kirkus Reviews (starred)

"I tore through Zakiya Dalila Harris's The Other Black Girl, a hilarious yet spine-chilling send-up of the whiteness of the publishing world, with my jaw on the floor. Its detailed dissection of the complex forces that curtail Black ambition is by turns tender and utterly lacerating, combining the nuance of a Kiley Reid with the twisted gut-punches of Bamboozled. It draws you in with a laugh and a smile, then shoves you into a nightmare you won't be able to shake off. A simply brilliant debut."
— AMY GENTRY, bestselling author of Good as Gone, Last Woman Standing, and Bad Habits

"This book is the perfect mixture of edge-of-your-seat thrills and biting social commentary that will get readers talking."
— BookRiot

"We're going to hear a lot about this book for years to come, and I can't wait."
— Goodreads

"Brilliantly positioned at the intersection of satire and social horror, The Other Black Girl incorporates subversively sharp and sly cultural commentary into an addictive and surprisingly dark tale of suspense. Harris displays a distinctive style all her own….a flair for metaphor and a carefully calibrated surrealist perspective. Thoughtful, provocative and viscerally entertaining, The Other Black Girl is a genre-bending creative triumph."
— BookPage (starred)

"Part The Devil Wears Prada, part Get Out, Harris's debut is suspenseful, riveting, and darkly funny, with a chilling ending that speaks a devastating truth. The setup to a surprising twist is introduced so deftly that the revelation comes as a delight, pushing the boundaries of the genre."
— Library Journal (starred)

"[An] incisive debut novel […] The author, herself a former assistant in publishing, delivers not just a critique of the industry's lack of diversity but an imaginative commentary on the personal and professional sacrifices that Black women make in order to fit into white-dominated spaces."
— The New Yorker

"The thriller of the summer, and quite possibly of the year […] It's the smartest book I've read in years about the horrors of competition, old-fashioned gaslighting, and being in thrall to a murky past."
— CrimeReads