Revival Season: A Novel (Paperback)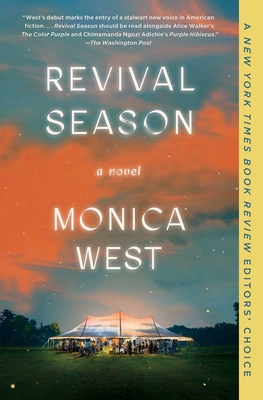 Staff Reviews
---
I was first drawn to this by the beautiful cover (even on an advanced copy) and then I was enchanted by West's writing immediately. Revival Season tells the story of 15 year old Miriam, the child of an evangelical healer. After witnessing a shocking confrontation after a healing session during their annual summer revival tour, Miriam begins to doubt not only her father but her God. While she's struggling with her faith, she discovers that perhaps she might be able to heal as well. That is unheard of for a young girl and she's desperate to keep her father from finding out. Will Miriam be forced to choose between helping others and staying in her father's good graces? Does she even want to be in his good graces? This gorgeous book brings up questions of faith, family, and self and I can't get enough of it.
— From
Andi
Description
---
The daughter of one of the South's most famous Baptist preachers discovers a shocking secret about her father that puts her at odds with both her faith and her family in this debut novel.

"Spellbinding…Revival Season should be read alongside Alice Walker's The Color Purple and Chimamanda Ngozi Adichie's Purple Hibiscus." —The Washington Post
A New York Times Book Review Editors' Choice

Every summer, fifteen-year-old Miriam Horton and her family pack themselves tight in their old minivan and travel through small southern towns for revival season: the time when Miriam's father—one of the South's most famous preachers—holds massive healing services for people desperate to be cured of ailments and disease. But, this summer, the revival season doesn't go as planned, and after one service in which Reverend Horton's healing powers are tested like never before, Miriam witnesses a shocking act of violence that shakes her belief in her father—and her faith.

When the Hortons return home, Miriam's confusion only grows as she discovers she might have the power to heal—even though her father and the church have always made it clear that such power is denied to women. Over the course of the following year, Miriam must decide between her faith, her family, and her newfound power that might be able to save others, but if discovered by her father, could destroy Miriam.

Celebrating both feminism and faith, Revival Season is a "tender and wise" (Ann Patchett) story of spiritual awakening and disillusionment in a Southern, Black, Evangelical community.
About the Author
---
Born and raised in Cleveland, Ohio, Monica West received her BA from Duke University, her MA from New York University, and her MFA from the Iowa Writers' Workshop where she was a Rona Jaffe Graduate Fellow. She was a Southern Methodist University Kimbilio Fellow in 2014, and she will be a Hedgebrook Writer in Residence in 2021. Revival Season is her first novel.