The Dark Between Stars: Poems (Paperback)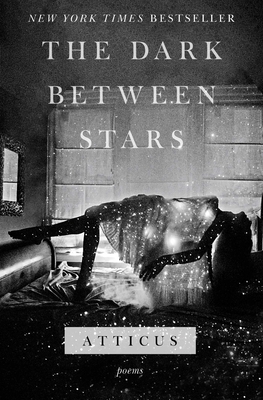 Staff Reviews
---
This is my first encounter with anonymous Instagram poet, Atticus (@atticuspoetry), but I'm now a certified fan! This collection is soaked in stardust, immersed in rain, and sparkle-spun in love. Is sparkle-spun even a word, or has this poetry collection gone to my head? Throughout the book there are dazzling, magical photographs that capture the wide open feel of the tiny, lovely poems. The perfect poetry for snuggling up and reading on rainy days, but just as good on a sun soaked beach or, if you're like me, reading in between the bits and fits of reality anywhere I can.
— From
Katie
Description
---
NEW YORK TIMES BESTSELLER

From the internationally bestselling author of Love Her Wild comes The Dark Between Stars, a new illustrated collection of heartfelt, whimsical, and romantic poems from Instagram poetry sensation, Atticus.

Atticus, has captured the hearts and minds of nearly 700k followers (including stars like Karlie Kloss, Emma Roberts, and Alicia Keys). In his second collection of poetry, The Dark Between Stars, he turns his attention to the dualities of our lived experiences—the inescapable connections between our highest highs and lowest lows. He captures the infectious energy of starting a relationship, the tumultuous realities of commitment, and the agonizing nostalgia of being alone again. While grappling with the question of how to live with purpose and find meaning in the journey, these poems offer both honest explorations of loneliness and our search for connection, as well as light-hearted, humorous observations. As Atticus writes poignantly about dancing, Paris, jazz clubs, sunsets, sharing a bottle of wine on the river, rainy days, creating, and destroying, he illustrates that we need moments of both beauty and pain—the darkness and the stars—to fully appreciate all that life and love have to offer.
About the Author
---
Atticus is a storyteller, observer, and the author of Love Her Wild, The Dark Between Stars, and The Truth About Magic. He loves the ocean, the desert, and playing with words. Visit him on Instagram @AtticusPoetry.
Praise For…
---
Praise for Atticus:

"In the simplest way, Atticus captures those little things that make life magic."
— Karlie Kloss

"Whether you're in love, heartbroken, or simply enjoying life we can all agree that these words profoundly stir our very souls."
— YourTango

"So inspiring…if you have a flair for the fantastical, this poet is certainly for you."
— Teen Vogue

"Atticus is something of a minimalist. He tends to be sparing with adjectives and descriptions, and writes chiefly about love, and sadness – and sunsets."
— The Guardian

"Love Her Wild is a collection of poems from from insta sensation Atticus. The poems are all short, powerful, and 100% guaranteed to awaken your senses."
— Justine Magazine

"The entire read is the feeling of a soft summer love song — full of lust and longing."
— CBC News

"A modern-day Byron…the perfect antidote to Tinder culture."
— London Times (UK)