Bright and Dangerous Objects (Paperback)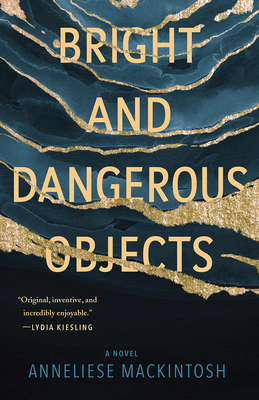 Staff Reviews
---
Bright and Dangerous Objects is a slim book that packs a mighty punch. Commercial deep-sea diver Solvig has a deep desire to be one of the first colonists on Mars. To be clear, this book takes place in present day and was inspired by a real woman with a family who was shortlisted for the Mars One project in 2015. To pursue this dream the character (inspired by that woman and some of the author's own feelings) must give up everything on Earth forever: her relationship with partner James and trying for a baby with him - something she also wants. The book amplifies the conflicts, obligations, and emotions women have been struggling with for centuries: family or career, dreams or duty. Reading this beautifully written book made me angry and sad, but it also made me hopeful.
— From
Kelly
Description
---
"Original, inventive, and incredibly enjoyable." —Lydia Kiesling
Commercial deep-sea diver Solvig has a secret. She wants to be one of the first human beings to colonize Mars, and she's one of a hundred people shortlisted by the Mars Project to do just that. But to fulfil her ambition, she'll have to leave behind everything she's ever known—for the rest of her life.
As the prospect of heading to space becomes more real, thirty-seven-year-old Solvig is forced to define who she really is. Will she come clean to James, her partner, about her plans? Or will she turn her back on the project, and commit to her life on Earth? Maybe even try for a baby, like James is hoping? Is there any way she can start a family and go to Mars? Does she even want both things?
Intimate and captivating, Bright and Dangerous Objects explores the space between ambition and obligation, grappling with questions women have faced for centuries while investigating a future that humanity is only beginning to think about. In frank, honest, and moving prose, author Anneliese Mackintosh moves from sea to sky, head to heart, and present to future, asking all the while what it means when our wildest dreams begin to come true.
About the Author
---
Anneliese Mackintosh's short stories have won the Green Carnation Prize and been shortlisted for the Edge Hill Prize, and longlisted for the Frank O'Connor International Short Story Award. Her short fiction has been broadcast on BBC Radio 4 and BBC Radio Scotland.
Praise For…
---
Bright and Dangerous Objects follows Solvig as she chases several incompatible dreams simultaneously, questioning what it means to be a mother and whether her impulses to explore the far-flung corners of the ocean and universe are something she should curtail or embrace. . . . Solvig's struggle—how to make her dreams fit inside her life?—is a universal one.

— Wired

Anneliese Mackintosh's imaginative and sensitive story tells of a woman's odyssey to reconcile competing desires for independence and fulfillment and family.
— The Christian Science Monitor

Captivating.
— CNN Underscored

A beautiful novel about an undersea welder who juggles her desire to join a mission to Mars with the reality of her pregnancy. This is a lovely and fascinating book about the kind of work that is usually invisible, and a kind of maternal ambivalence that reaches for the literal stars, told from the perspective of a singular, well-drawn protagonist.
— The Millions

A story that feels both peculiar and familiar at once.
— GOOP

A relatable examination of the ways in which societal constraints can force women to choose between their dreams and starting a family.
— PopSugar

A sensitive, clear-eyed look at one woman's quest to figure out what makes life worth living, and how unbearable it feels to have to truly sacrifice something you love in order to attain something else.
— Refinery29

A fascinating and carefully crafted meditation on motherhood, female desire and ambition, Bright and Dangerous Objects is a mesmerizing literary debut.

— Shelf Awareness

Powerful. . . . This is a deeply moving story about love, loss, and the strength it takes for women to realize their dreams.
— Publishers Weekly, Starred Review

A perceptive and nuanced study of a woman's search for self-fulfillment, reaching from the ocean floor to outer space.
— Kirkus Reviews

An intimate portrayal of a woman at a crossroads.
— Library Journal

From the depths of the sea to neighboring planets, no destination is off limits in Anneliese Mackintosh's thrilling feminist adventure novel. . . . Resplendent.
— Foreword Reviews

I was instantly fascinated by Bright and Dangerous Objects, which uses the backdrops of undersea welding and a hypothetical expedition to Mars to deftly explore ideas of independence, grief, motherhood, and romantic relationships and how they shape one woman's life. . . . This is an original, inventive, and incredibly enjoyable book. I loved it.

— Lydia Kiesling, author of The Golden State

Mackintosh has written a beauty. If you've ever weighed two different eternities in your hand and had to choose which to love most, this book is yours.
— Deb Olin Unferth, author of Barn 8

Bright and Dangerous Objects is written in a beautiful voice. . . . The characters face impossible decisions, and they face them the way we all do, wildly, blindly. It's a book I'll remember.

— Sara Majka, author of Cities I've Never Lived In