White Blood: A Lyric of Virginia (Paperback)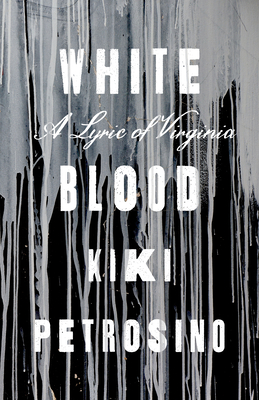 Staff Reviews
---
I met this author at a conference in January 2020 and somehow just unearthed the book from a pile in September. I don't read a lot of poetry. I feel like I'm not "smart" enough for it sometimes. Then I find a collection like this and realize maybe I'm just reading the wrong poets. I have read these poems over and over in the past two weeks and am still finding layer upon layer of depth and nuance. Petrosino explores her identity through using formal sonnets to erasure poetry created from the text explanations of her DNA testing results, highlighting only the words from the "What Your Results Mean" that actually mean something to her as a Black American living in the Upper South. She explores what it meant to be a young woman of color in the ivy league univeristy system. Some of the poems that I have been going back to most often are her explorations of her complicated relationship with Monticello, the politics of plantation tourism, and her family connection to the Free Smiths of Louisa County. A must read for anyone looking for a deeper understanding of Virginia history and anyone who may be looking to read poetry for the first time or the first time in a while. Petrosino has produced a collection accessible to the beginner with the deep sophistication of subject matter and form of a contemporary master that can be appreciated by the person who reads poetry regularly as well.
— From
Kelly
Description
---
In her fourth full-length book, White Blood: A Lyric of Virginia, Kiki Petrosino turns her gaze to Virginia, where she digs into her genealogical and intellectual roots, while contemplating the knotty legacies of slavery and discrimination in the Upper South. From a stunning double crown sonnet, to erasure poetry contained within DNA testing results, the poems in this collection are as wide-ranging in form as they are bountiful in wordplay and truth. In her poem 'The Shop at Monticello, ' she writes: 'I'm a black body in this Commonwealth, which turned black bodies/ into money. Now, I have money to spend on little trinkets to remind me/ of this fact. I'm a money machine & my body constitutes the common wealth.' Speaking to history, loss, and injustice with wisdom, innovation, and a scientific determination to find the poetic truth, White Blood plants Petrosino's name ever more firmly in the contemporary canon.
About the Author
---
Kiki Petrosino is the author of four books of poetry: White Blood (2020); Witch Wife (2017); Hymn for the Black Terrific (2013); and Fort Red Border (2009)--all from Sarabande Books. She holds graduate degrees from the University of Chicago and the University of Iowa Writer's Workshop. Her poems and essays have appeared in Poetry, Best American Poetry, The Nation, The New York Times, FENCE, Gulf Coast, Jubilat, Tin House, and online at Ploughshares. Previously Director of Creative Writing at the University of Louisville, she now teaches at the University of Virginia as a Professor of Poetry. Petrosino is the recipient of a Pushcart Prize, a Fellowship in Creative Writing from the National Endowment for the Arts, and an Al Smith Fellowship Award from the Kentucky Arts Council. She lives in Charlottesville.