Brand Identity Breakthrough: How to Craft Your Company's Unique Story to Make Your Products Irresistible (Paperback)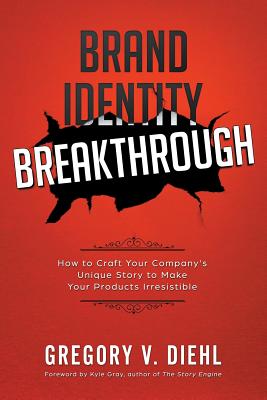 Description
---
Does your business have a story to tell? It should From the moment you first opened your doors, you began crafting it. With every new product you release, you carve out an even more unique niche in your industry. This all builds up to one thing--brand identity. Does yours stand out from the crowd?
With a decade of experience studying businesses across the world, Diehl has unlocked the key to creating innovative brand identities and distinct business stories. In Brand Identity Breakthrough, you and your small business will learn how to develop a strong brand identity by combining your personality and values with the functionality of your products, becoming an irreplaceable brand and company.
Whether you lead a growing company, or are just starting out, Brand Identity Breakthrough will give you a smarter way to think about product development flow, branding, brand mapping strategy, and business model generation. With proven, and well-organized logic, it will set you on the path to selling more--and at higher prices--giving the customers exactly what they want and sending your profits through the roof.
In Brand Identity Breakthrough, you will learn...
-How to incorporate a unique selling proposition into your branding
-The best methods for selling products to customers as a small business
-How to use business storytelling to sell products in both physical and online marketplaces

Table of Contents
Section I: Why Identity Matters
Chapter 1: Can You Tell a Good Story? (The Importance of Business Storytelling)
Chapter 2: When Good Ideas Fail
Chapter 3: Why Entrepreneurs Fail to See Their Own Value
Chapter 4: Why Others Fail to See Your Value
Section II: Creating Your Brand Identity
Chapter 5: Uncovering Your Core Values
Chapter 6: Developing a Unique Selling Proposition
Chapter 7: Crafting Your Personality Profile
Chapter 8: Knowing Your Target Audience
Section III: Telling Your Story to the World
Chapter 9: How to Sell Who You Are (Your Brand Identity as a Sales Pitch)
Chapter 10: How to Speak with Clarity, Authority, & Authenticity
Chapter 11: How to Display Your Character Through Writing
Chapter 12: How to Educate Your Audience About Your Brand Identity
Section IV: Brand Identity Case Studies
Case Study #1: Rebranding a Whole Industry's Adversarial Image
Case Study #2: Pre-Seeding a Two-Sided Marketplace for Launch
Case Study #3: Turning a Charitable Project into a Profitable Movement
Case Study #4: Skyrocketing a Personal Brand through Narrative Focus
Case Study #5: Embracing Personality in a Technical Niche
Section V: Resources for Prospective Entrepreneurs
Appendix 1: Entrepreneurial Terms Defined
Appendix 2: 50 Useful Starting Questions for New Entrepreneurs
Appendix 3: Making Money Online