Full Support: Lessons Learned in the Dressing Room (Paperback)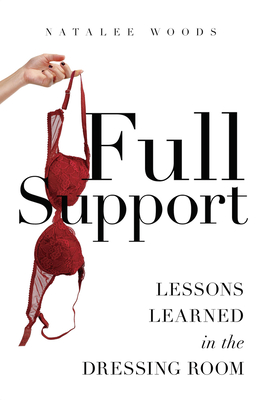 Description
---
Lingerie is the foundation for every woman's wardrobe, but it's also where we feel the most pressure to be beautiful—and feel the most shame at falling short of impossible standards. Concerns about our age, body type, family expectations, jobs, and romantic partners crowd into the dressing room with us. The result is a bra that fits other people's standards instead of our own bodies.

As a bra-fitter at a high-end department store for more than a decade, Natalee Woods watched women bravely facing down their fears and embracing what worked for them. FULL SUPPORT shares their stories.
About the Author
---
Natalee Woods holds a BA in English from Washington State University and an MFA in Writing from the California Institute of the Arts. Her work has been featured in the Huffington Post, Chatelaine, Reader's Digest, and Salon. Natalee spent over a decade working in multiple lingerie departments, fitting women for bras in both Seattle and Los Angeles. The experiences and lessons she learned along the way, ultimately led her to write her debut book, Full Support: Lessons Learned in the Dressing Room. Natalee currently teaches English literature and creative writing within the public school system. Her teaching has magnified her passion for advocating for socially marginalized youth and criminal justice reform. Natalee currently lives in Seattle and has a penchant for leather jackets. She spends her free time enjoying indie films, local music, and planning her next trip. You can find a complete collection of her work at nataleewoods.com.