Coloring Book For Teens: Anti-Stress Designs Vol 6 (Paperback)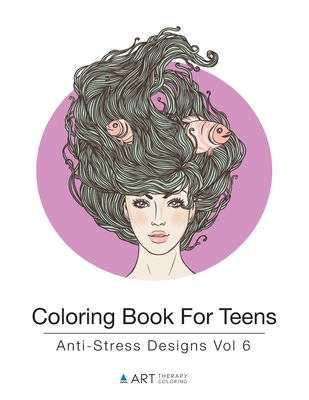 $8.13

Available to Ship From Our Warehouse
Description
---
Coloring Book For Teens Anti-Stress Designs Vol 6
This Coloring Book For Teens Anti-Stress Designs Vol 6 by Art Therapy Coloring is filled with adult coloring pages that are perfect for any teen who likes to color If you love the simple life and boho design, this is the teen coloring book for you Included are captivating dream catchers, beautiful depictions of astrological signs, geometric patterns that are unique and interesting, and other inspirational coloring pages that are representative of the boho lifestyle.
Coloring Book for Teens: Anti-Stress Designs Vol 6 is suited for people of all ages who are young at heart. You will find your curiosity and creativity inspired every time you sit down to color one of the fun coloring pages in this teen coloring book.
Art Therapy's Coloring Books For Teens
More than thirty coloring pages created especially for teens
Helps teens relax and destress
A multitude of designs including mandalas and geometric patterns.
Works well with colored pencil, gel pens, fine tip pens, etc.
Designs are surrounded by a 1/4 inch margin
60# white paper is of the highest quality
Teens love the variety of designs tailored to their tastes
10% of the proceeds go to benefit pancreatic cancer charities
Anti-Stress Coloring Books For Teens
Coloring is not only good fun but is also good for you. Coloring reduces stress and helps you to relax. Coloring can help to create feelings of happiness too. By developing a habit of coloring in your adult coloring book everyday, you may help yourself to have improved moods and less stress overall.
Studies have shown that coloring has very similar effects in the brain as meditation. Meditation has been shown to be incredibly helpful for increasing one's ability to deal with emotional issues and for increasing cognitive abilities.
Join the millions of other teen and adult color enthusiasts and order your copy of Coloring Book for Teens: Anti-Stress Designs Vol 6 today This teen coloring book makes a great Christmas or birthday gift for any teen, tween, or older girl
Benefits of Anti Stress Adult Coloring Books
Anti stress adult coloring books provide many benefits, such as:
Adult coloring books help to reduce stress
Adult coloring books are great for social activities
Adult coloring books increase focus
Adult coloring books are meditative
Adult coloring books are therapeutic