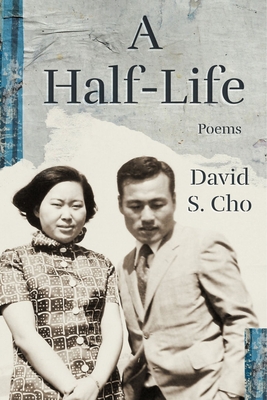 $18.00

Comes From Our Warehouse - Usually Ships in 3-10 Days
Description
---
A poetry collection centered on the Korean American experience.

The term "half-life" is used to describe radioactive decay, pharmaceutical drugs, rocks, the atoms of our human bodies, and even technological products. Using this idea as a starting point, A Half-Life provides a rare glimpse into the Korean American experience. The poems utilize the literal metaphor of the highway as the intersecting point of America, Asia, and the globe, to reflect on the emotional and physical journeys many Asian Americans take. From Chicago to Seattle, from the biographical to the fictional, from current times to the Korean and Vietnam wars, A Half-Life covers the joy and pain, the probable and improbable, the individual and communal—the cultural histories we all share.
About the Author
---
David S. Cho is the proud child of Korean immigrants. He is director of the Office of Multicultural Development at Wheaton College. He is the author of a chapbook, Song of Our Songs, a book of poems, Night Sessions, and a book on twentieth-century Korean American novels, Lost in Transnation.
Praise For…
---
"David Cho's poems evoke experiences of growing up Korean American, loving Chicago, and meditating on roadkill at the same time that they signal an awareness of themselves as verbal constructions. Hence, in a poem about the hyphen—that iconic signifier of ethnic American identity—punctuation itself takes on a life of its own; in a poem ostensibly about love for his wife, the speaker offers an encomium to the Windy City; and in a poem about roadkill, the speaker invites the reader to address the dead deer directly. What does it mean to be a second-generation American? How do you write a love poem? What can death teach us? A Half-Life at once grapples with these and other important questions and resists reductive answers."
— Floyd Cheung

"At the heart of David Cho's A Half-Life is a narrative journey of Harry Kim, an American son, born to immigrant Korean parents, learning to become American in the heart of America, treading a line between two cultures, embracing a lineage more complex than most American boys and young men, and finding a way to belong in the country he was born in with both heart and spirituality and desire."
— Shawn Wong