General Power of Attorney Kit: Make Your Own Power of Attorney in Minutes (Paperback)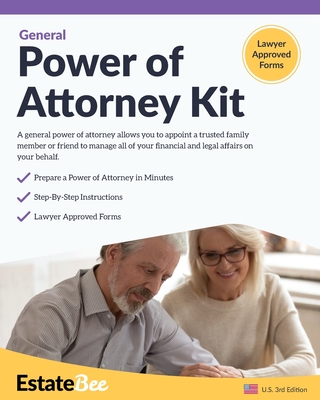 $18.85

Comes From Our Warehouse - Usually Ships in 3-10 Days
(This book cannot be returned.)
Description
---
(US Edition)
Prepare a General Power of Attorney in Minutes.....
A general power of attorney allows you to appoint an agent to manage your legal, financial and property affairs on your behalf. Your agent's authority is unlimited in scope and permits them to act as your legal representative across the whole cross section of your legal and financial affairs.
General powers of attorney are useful if you are unable to manage your affairs due to an accident or illness, or where you are out of the country for extended periods. Your agent's authority will come to an end on a specified date, or when you revoke your agent's authority, become incapacitated or die.
This kit contains all the information and ready-to-use legal forms necessary to create a general power of attorney. It also contains everything you need to revoke your power of attorney.
Simply follow the instructions and you can prepare your document in a matter of minutes - quickly and easily...
✔ Appoint someone to manage your financial affairs
✔ Protect and safeguard your assets
✔ Protect your loved ones from stress and anxiety
✔ Step-by-step instructions
✔ Downloadable forms
If you like our"General Power of Attorney Kit", PLEASE leave a review...thanks