Napkin Folding: 40 ideas for original table settings (Paperback)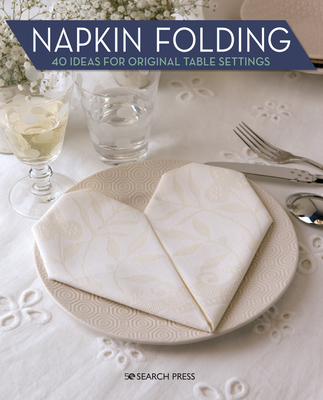 Description
---
Learn 40 fabulous napkin folding designs for an elegant dinner table.

Napkins add a touch of elegance and sophistication to your dining table and this book is a wonderful source of inspiration to help you decorate and customize your home with taste and creativity. Napkins are functional as well as decorative, and there are 40 lovely designs to choose from, including a pleated rectangle, a leaf, a flower and a knot. Each napkin design is explained through clear, step-by-step instructions and illustrations. There are folds to suit every occasion from a smart dinner party to a family barbecue, weddings, picnics and more. Gain all the skills, techniques and expertise you need to create stunning, contemporary table decorations to a professional standard.
About the Author
---
Marie Claire Idées is the essential place for creative hobbies from cross stitch, sewing, crochet and embroidery to dyeing painting and collage. It is a community of creative and passionate people who share their creations and ideas through the magazine Marie Claire Idées and the website www.marieclaire.fr/idees/. The Marie Claire magazine and website are outstanding resources for craft.
Praise For…
---
Postcard Reviews - November 2020

Every time I go to a fancy resturant or event, I always admire the beautifully folded napkins.
Well.. now I can re-create the designs at home for myself.
I always thought they were dificult to achieve, but with a bit of practice and patience, this book shows the techniques required to fold and tease the napkin into something simple, delicate or even a bit more adventurous.
40 folded napkins are created. Every event is catered for and there is one for every mood.
I discovered there is also something mindful about folded fabric, I loved the learning process and this is a book that makes it easy.
Functional and decorative, these creations are a work of art..
Buy the book..


Handmade by Deb - January 2021
Pretty and practical! Napkin Folding by Marie Claire features 40 ideas for original table settings. If you've admired them at restaurants or special events now you can fold your own. They are easy to make and once you've folded one, duplicates come easily and quickly. Plus the folding is meditative. Choose from 40 designs organized by theme - simplicity, romance, glamour, hearts, oriental, garden, city and sea. Personalize the design by your choice of napkin (color, pattern, fabric) and how you lay the table. The folding ranges in difficulty from simple to detailed. Clear step-by-step diagram and text instructions accompany each design. For cloth napkin folds spray with starch and iron. I used paper napkins. So far I'v folded the Pretty heart, Precious star and Lotus flower - all easily. With paper napkins, just fold and crease. Beautifully folded napkins make for a stylish and thoughtful presentation. Learn the art of napkin folding today!