Carrying Independence (Paperback)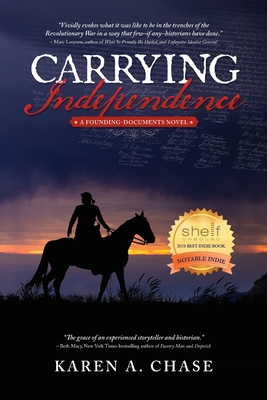 Description
---
"A stunning portrait of Revolutionary America..." - The Colonial Review
For fans of AMCs TURN, Jeff Shaara, or the Outlander series, this has it all. Spies. War. Political intrigue. Romance. It is 1776, Revolutionary War historical fiction at its finest.
A 2020 LIBRARY OF VIRGINIA LITERARY AWARD NOMINEE
NO. 12 OF THE TOP 100 INDIE BOOKS OF 2019
THE HERO... Nathaniel Marten, is a reluctant Patriot. Cries of Revolution have spread across the colonies to his home in Pennsylvania. He is son to a German gunsmith and an English mother. Friend to a soldier and the Shawnee. "Toward which of my friends and family would my rifle be pointing exactly?"
THE QUEST OF A LIFETIME... In a chance encounter with Benjamin Franklin and Thomas Jefferson, Nathaniel instead takes on the task of carrying the sole copy of the Declaration of Independence to seven Congressmen whose signatures will truly unite the colonies.
THE RISKS... To ride. To sail. To survive. British generals and double-crossing spies are eager to capture both Nathaniel and the document so they can divide the thirteen colonies already weakened by war.
THE REALITIES... Through encounters with well-known original founding fathers and mothers, Nathaniel must learn that independence-for himself, for those he loves, and for the country-is not granted, it's chosen. By each and every one of us.
* * *
"Vividly evokes what it was like to be in the trenches of the Revolutionary War in a way that few-if any-historians have done." - Marc Leepson, author of LAFAYETTE: IDEALIST GENERAL
"Allows us to temporarily live and breathe 1776 so deeply that we feel we have been the ones carrying independence for us all." - Kathleen Grissom, author of THE KITCHEN HOUSE
About the Author
---
Karen A. Chase is an award-winning author, designer, and photographer. Her first book, Bonjour 40: A Paris Travel Log, garnered seven independent publishing awards. Carrying Independence secured runner-up in the 2017 William Faulkner, William Wisdom Unpublished Novel Competition, and was a semi-finalist in the 2019 Screencraft Cinematic Book competition. A long-standing member of James River Writers, the author is also a member of the National Society of the Daughters of the American Revolution, the Historical Novelist Society, the Women's Fiction Writers Association, and the American Revolutionary Round Table of Richmond. Originally from Calgary, Alberta, Canada, throughout her childhood Karen traveled through the United States in an R.V. with her family. Those journeys instilled a lifelong love of history, travel, and learning. She has lived in the United States since 1990 when she enrolled as a foreign-exchange student, studying advertising art in San Antonio, Texas. She now resides with her partner, Ted, and a couple of scrappy cats, in Richmond, Virginia.
Praise For…
---
Incredibly well-researched historical details that deepen the narrative and the characters—historical and fictionalized—transporting the reader to walk with them. The author dismantles facts both well-known and rarely taught about the American Revolution, and breaks down the language of the Declaration into experiences, thereby making the time period truly accessible. The author allows us to temporarily live and breathe 1776 so deeply that we feel we have been the ones Carrying Independence for us all.
— Kathleen Grissom, New York Times best selling author of THE KITCHEN HOUSE and GLORY OVER EVERYTHING

* * *

It is seldom we see women approaching fiction during a time period like the American Revolution, a time rife with bloody battles and political intrigue. Karen A. Chase has taken on the task with this first novel and handled it with the grace of an experienced storyteller and historian.
— Beth Macy, New York Times best selling author of FACTORY MAN and DOPESICK

* * *

Believable characters, an engaging narrative, and a sense of historical reality… The best aspect for me, of course, is the presence of Shawnee people who are reasonable, thinking human beings.
— Colin Calloway, National Book Award Finalist for THE INDIAN WORLD OF GEORGE WASHINGTON, and Professor Native American Studies Dartmouth College