Wicca Altar: A Magic Guide for Beginners and Solitary Practitioners to Create Your Wiccan Altar for Rituals, Casting the Circle and (Paperback)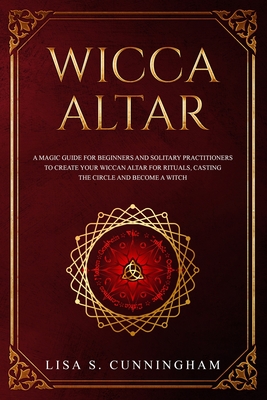 $14.69

Comes From Our Warehouse - Usually Ships in 3-10 Days
(This book cannot be returned.)
Other Books in Series
This is book number 1 in the Wicca series.
Description
---
UPDATED VERSIONWhat does your altar look like? Do you have one, or do you want to make one but aren't sure where to start? All of us have a reason to celebrate something.
We use the spaces in our homes and all around us to demonstrate or display what we are in devotion to, even if it is just a table full of photos of our beloved family. And all over the world, people are making altars and celebrating their beliefs and have been since we were still living in caves.
Your altar is whatever you want it to be, and if you are interested in the Wiccan practice and building your altar around a kind of magic that celebrates Mother Nature and the seasons, then this book is for you. Not all people celebrate what Wicca does, and while we all have our own sacred beliefs, everyone can have an altar of their own design and creative personality.
When you are ready to begin your journey of magic, there are a few ways you can begin that process. An excellent place to start is through the building of your sacred altar. An altar is a place of devotion, and it will change and transform as you are practicing your beliefs and incorporating new ways of celebrating those beliefs. You can begin your journey with your altar when you get started with this book, Wicca Altar: A Magic Guide for Beginner's and Solitary Practitioners to Create Your Wiccan Altar for Rituals, Casting the Circle and Becoming a Witch.
Everything you need to get started is right here in these pages, and as you move through each chapter, you will slowly start to build the altar of your dreams so that you can begin to cast and manifest your purpose and power. There are several chapters in this book, and they include some of the following information:
Origins and history of altars, including origins of the Wiccan altar
An overview of the Wiccan practice and principles
Supplies you will need to practice magic at your altar
Information about crystals, plants, herbs, oils, and more
Tools of magic for the altar space and casting a magic circle
Information about the elements and the four directions and what tools represent each one
Instructions on how to build your first Wiccan altar
A step-by-step guide to casting a circle
Tips for casting a circle
The everyday altar and how to use it for daily practice
Spells and rituals for your everyday altar
The ritual altar and its connection to the sabbats and esbats
And more
You are in the right hands with this book, and you will have so much fun working toward the creation of your very own altar space. The tools in this book are tried and true and have come from years of experience with Wicca and magic. When you are ready to cast your first circle, the altar calls Get ready for an altar of magic, and join me in Wicca Altar: A Magic Guide for Beginner's and Solitary Practitioners to Create Your Wiccan Altar for Rituals, Casting the Circle and Becoming a Witch. So mote it be
What are you waiting? Scroll to the top of the page and click the buy now button