Spiroglyphics: Animals (Paperback)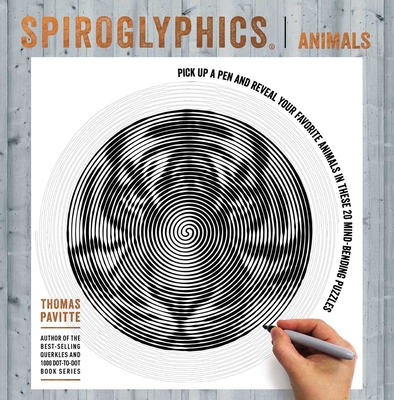 Description
---
Color between the lines to reveal your favorite animals as art!

Spiroglyphics: Animals features a new type of mind-bending graphic puzzle from Thomas Pavitte, best-selling author of the 1000 Dot-to-Dot and Querkles series. At first, all you see are simple spirals. But when you look a little closer and start to color between the lines, you'll see your favorite animals take shape! When you're finished, you'll have a masterpiece worthy of being framed on your wall. This exotic collection of 20 puzzles includes a fox, an alpaca, an eagle, a horse, a rabbit, a tiger, a gorilla, a koala, a giraffe, and many more. Grab your markers and transform a set of simple lines into an amazing work of art!
About the Author
---
Thomas Pavitte, born in New Zealand, is a graphic designer and experimental artist who often uses simple techniques to create highly complex pieces, and whose dot-to-dot pieces have been enjoyed by people all over the world. He set an unofficial record for the most complex dot-to-dot drawing in 2011 with his version of the Mona Lisa, in 6,239 numbered dots, which took him weeks to prepare and nine hours to complete. He lives and works in Melbourne, Australia.