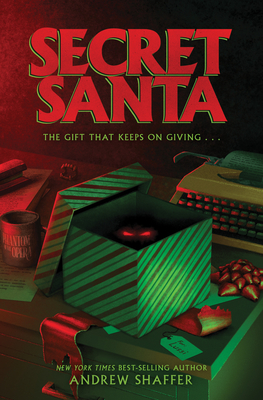 Staff Reviews
---
I have yet to meet an Andrew Shaffer book I don't love. This is a perfect holiday gift for anyone who loves Grady Hendrix and Stephen King. Publisher Lussi is struggling to find the Next Big Thing in 80's horror at the brand-new job she's lucked into. (Whether that's good or bad luck, I won't say...) At the holiday gift swap, she gets a Secret Santa gift that no one owns up to giving her - for good reason. It's a creepy-looking thing that she writes off as hazing, until weird things start to happen around the office. Tragedy begins to befall her new coworkers right and left and it's left up to Lussi and her author friend Fabian to find out where the gift came from and how to stop the madness. Shaffer is a store favorite and I can't wait to get it into the stockings of our horror fans this year!
— From
Andi
Description
---
The Office meets Stephen King, dressed up in holiday tinsel, in this fun, festive, and frightening horror-comedy set during the horror publishing boom of the '80s, by New York Times best-selling satirist Andrew Shaffer.

Out of work for months, Lussi Meyer is desperate to work anywhere in publishing. Prestigious Blackwood-Patterson isn't the perfect fit, but a bizarre set of circumstances leads to her hire and a firm mandate: Lussi must find the next horror superstar to compete with Stephen King, Anne Rice, and Peter Straub. It's the '80s, after all, and horror is the hottest genre.

But as soon as she arrives, Lussi finds herself the target of her co-workers' mean-spirited pranks. The hazing reaches its peak during the company's annual Secret Santa gift exchange, when Lussi receives a demonic-looking object that she recognizes but doesn't understand. Suddenly, her coworkers begin falling victim to a series of horrific accidents akin to a George Romero movie, and Lussi suspects that her gift is involved. With the help of her former author, the flamboyant Fabien Nightingale, Lussi must track down her anonymous Secret Santa and figure out the true meaning of the cursed object in her possession before it destroys the company—and her soul.
About the Author
---
Andrew Shaffer is the New York Times best-selling author of Quirk's Obama/Biden Mystery series, the satirical thriller The Day of the Donald: Trump Trumps America, and the Goodreads Choice semifinalist Fifty Shames of Earl Grey: A Parody, among other humorous fiction and nonfiction books for HarperCollins and Penguin Random House. He lives in Kentucky with his wife, the author Tiffany Reisz.
Praise For…
---
"A touch of the supernatural, malefic colleagues and plenty of eccentricity."—The Washington Post

"Shaffer writes with a keen eye for the tropes of the genre but also a sharply ironic sense of humour…provides chuckles and chills in equal measure."—Financial Times

"Writing with a biting, dry wit, Shaffer blends old school, B-movie gore and sharp send-ups of office politics and the publishing industry. Fans of classic slasher novels will revel in this blood-soaked romp."—Publishers Weekly

"[A] devilishly farcical ode to horror novels and publishing in general....Anyone who ventures into this snarky, dark novel will never look at a holiday gift exchange the same way again."—Booklist

"A superbly crafted, impressively original, and inherently riveting read from cover to cover."—Midwest Book Review

"Shaffer delivers chills and laughs — he is fundamentally a comedic writer — in a story that leads into Halloween and Christmas like a good Tim Burton film."—The Gazette

"An offbeat nostalgia trip, a narrative steeped in 1980s pastiche and featuring a unique plot that keeps readers guessing what's happening . . . Secret Santa is a wonderful read any time of the year, but it's devilishly appropriate for Christmastime — or perhaps Christmas in July."—Hollywood Soapbox