Arvind Krishna Mehrotra: Selected Poems and Translations (Paperback)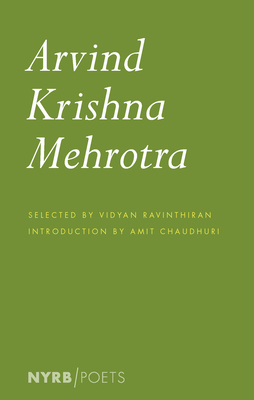 $18.00
Not available for purchase
Description
---
Shortlisted for the Derek Walcott Prize for Poetry

A one-of-a-kind collection of work by one of India's best contemporary poets.

Arvind Krishna Mehrotra is one of the most celebrated Indian poets writing in English and an important translator from Indian languages, but until now his work has rarely been available in the United States and Britain. Mehrotra's poetry combines the commonplace and the strange, the autobiographical and the fabulous, and reflects an intense and original engagement with American poetry, especially the work of William Carlos Williams and the Beats. This book provides a comprehensive picture of Mehrotra's achievements as a poet and translator and includes a striking new poetic sequence.
About the Author
---
Arvind Krishna Mehrotra is the author of several books of poetry, the editor of The Oxford India Anthology of Twelve Modern Indian Poets and Collected Poems in English by Arun Kolatkar, and the translator of The Absent Traveller: Prakrit Love Poetry and Songs of Kabir. He lives in Dehradun.

Amit Chaudhuri is a novelist, essayist, poet, and musician. A fellow of the Royal Society of Literature, he lives in Calcutta and the United Kingdom, where he is a professor of contemporary literature at the University of East Anglia. Friend of My Youth, his seventh novel, was published in the US by New York Review Books.

Vidyan Ravinthiran is the author of Grun-tu-molani and The Million-Petalled Flower of Being Here, as well as a critical study of Elizabeth Bishop. He is an associate professor at Harvard University and an editor at Prac Crit.
Praise For…
---
"Treasured Indian poet Arvind Mehrotra once described himself as 'a speechless shadow in a world of sound.' Tracing the turns of his lyric universe, which whirls between the fabled West and timeless East, between sunset and Dehra Dun, between poisoned wells and Heian diary, between hoopoe and dentist, sultan and ironing lady, memory and lover, gatha and translation, we are the speechless shadow, awed by the depths and concision of his inventive wit, erupting aloud at his offbeat humor, following his light footprints across the bridge of tradition and renewal to the 'approaching path where we've always been arriving.'" —Jeffrey Yang 

"In his best poems, Mehrotra proves to be a master storyteller with a peculiar taste for the uncanny; this is what makes his poetry a constant pleasure for the reader and an endless, delightful challenge for the critic." —Graziano Krätli, Rain Taxi Review of Books

"[Mehrotra's] sense of humor is like the shadow of a sideways smile. It's a quietly forceful collection." —Lauren Kane, The Paris Review Daily

"Mehrotra is a major poet expanding the possibilities of poetry in English." —Keith Taylor, New York Journal of Books

"One of the finest poets working in any language...a poet-critic of an exceptionally high order." —Peter D. McDonald

"Mehrotra has consciously charted for himself a personal and a poetical tradition. [The translated] texts influence and modulate Mehrotra's English poems in their craft and content in the same way that the English poems feed into the 'other.'" —Mantra Mukim, Asymptote
 
"Mehrotra's great achievement is to let us in, as few other modern writers have, to the speaker's experience of accident and wonder." —Amit Chaudhuri
 
"Arvind Krishna Mehrotra has written masterpieces. That few know this is testament only to a widespread ignorance of Indian poetry. His poems resist overt displays of nationality (although they depict, with ever-varied nonconformity, the nuances of India neighborhoods), and they've a minimalist, rather than a maximalist, distinctiveness. It's time they gained a worldwide audience." —Vidyan Ravinthiran