Bob Ross Embroidery (Embroidery Craft) (Mixed media product)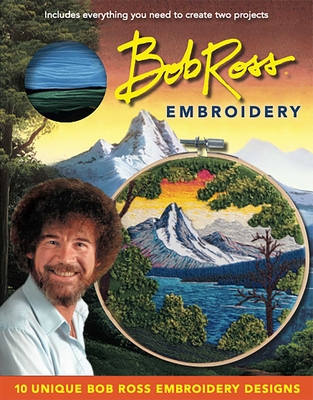 $21.99

Comes From Our Warehouse - Usually Ships in 3-10 Days
Description
---
Stitch your way to happiness with these Bob Ross–inspired embroidery projects.

Create your own embroidered Bob Ross paintings with the materials in this kit. Included are a step-by-step instruction book, iron-on transfers for all 10 projects, and all the supplies needed to make two projects: multiple colors of embroidery floss, 2 pieces of fabric, 2 pieces of calico backing, 2 needles, and a 6-inch bamboo hoop. The designs are based on Bob's signature paintings, and several also include famous quotes by Bob to add a happy little touch to the scene.
About the Author
---
Originally from Carlisle in Cumbria, and now based in North Somerset in England's West Country, Deborah Wilding specializes in hand embroidery, using traditional methods to produce work of exceptionally high quality. Her studio space is located in the seafront area of North Somerset, looking out over the Bristol Channel towards Wales. A setting she finds truly inspirational.
     Deborah is highly trained in historically accurate techniques, including goldwork, silk shading, whitework, blackwork, and crewelwork, among many other needlework techniques. As well as working on freelance embroidery projects, she also teaches embroidery skills on behalf of the Royal School of Needlework (RSN) in private companies. After completing the RSN's "Future Tutor" course (the world's leading educational establishment for the teaching of hand embroidery to a professional level) and graduating with distinction in 2015, Deborah has been employed by the RSN to teach on both their Certificate and Diploma Programme and their extensive Day Class Programme, both in the UK and abroad.
     In her freelance capacity, she works from her seaside studio on day class designs, restoration projects, and private commissions, as well as teaches private lessons.