Magic, Lies, and Deadly Pies (A Pies Before Guys Mystery) (Hardcover)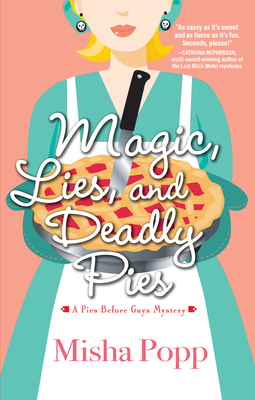 Staff Reviews
---
Incredibly cute and sassy little paranormal cozy mystery. Misha Popp's first in the new Pies Before Guys culinary series features a young pie maker with magical gifts. The first man she kills with a pie is an accident. The rest are most definitely on purpose. Daisy Ellery bakes deadly revenge into pies for men who have committed horrible crimes against the women in her small town, but she can't figure out who is blackmailing her and threatening to expose her vigilante side-hustle. There are few cozies these days that are breaking tradition and dropping a few f-bombs and showing some skin and including diverse, outspoken characters and this is one. I'm here for it!
— From
Kelly
Description
---
Daisy Ellery's pies have a secret ingredient: The magical ability to avenge women done wrong by men. But Daisy finds herself on the receiving end in Misha Popp's cozy series debut, a sweet-as-buttercream treat for fans of Ellery Adams and Mary Maxwell.

The first time Daisy Ellery killed a man with a pie, it was an accident. Now, it's her calling. Daisy bakes sweet vengeance into her pastries, which she and her dog Zoe deliver to the men who've done dirty deeds to the town's women. But if she can't solve the one crime that's not of her own baking, she'll be out of the pie pan and into the oven.

Parking her Pies Before Guys mobile bakery van outside the local diner, Daisy is informed by Frank, the crusty diner owner, that someone's been prowling around the van—and not just to inhale the delectable aroma. Already on thin icing with Frank, she finds a letter on her door, threatening to reveal her unsavory secret sideline of pie a la murder.

Blackmail? But who whipped up this half-baked plot to cut a slice out of Daisy's business? Purple-haired campus do-gooder Melly? Noel, the tender—if flaky—farm boy? Or one of the abusive men who prefer their pie without a deadly scoop of payback?

The upcoming statewide pie contest could be Daisy's big chance to help wronged women everywhere…if she doesn't meet a sticky end first. Because Daisy knows the blackmailer won't stop until her business is in crumbles.

About the Author
---
Misha Popp enjoys writing about murdery women and over-the-top baked goods, but not so much about herself. She lives in rural Massachusetts where she bakes entirely too many pies and sculpts things out of chocolate. An unrepentant school nerd, she has a collection of degrees that have nothing to do with the jobs that pay her.
Praise For…
---
Praise for Magic, Lies, and Deadly Pies:
"Darkly humorous . . . Cozy readers looking for something different will find much to like."
—Publishers Weekly

"An exciting debut that has you rooting for a morally conflicted witch while salivating over her pies."
—Kirkus

"The rapid pacing and tantalizing plot will keep [readers] engrossed in this strong debut."
—Booklist

"Utterly original . . . a deliciously charming story filled with female empowerment, humor, women helping women, and lots of tasty pies."
—San Francisco Book Review, 5-star review

"Introducing unique and original protagonist . . . unabashed fun on the printed page."
—Midwest Book Review

"Magical, decadent, and addicting! Magic, Lies, and Deadly Pies is a breath of fresh air, and Daisy Ellery is a heroine worth rooting for. Honey Crunch Apple pie is my new favorite thing!"
—Melissa Bourbon, national bestselling author of the Magical Dressmaking mysteries

"Take a cup of Promising Young Woman, stir in a tablespoon of Like Water for Chocolate, add a dash of Arsenic and Old Lace, then bake with knife-edge wit and keen dialog and you get Misha Popp's darkly funny whodunit. Revenge fantasy meets magical realism meets edgy culinary cozy. Magic, Lies, and Deadly Pies gives new meaning to 'dessert to die for.'"
—Alexia Gordeon, award-winning author of The Gethsemane Brown Mysteries

"Daisy Ellery puts a little vinegar in her pie crusts, and Misha Popp has added a drop to her cozy debut. Magic, Lies, and Deadly Pies is as sassy as it's sweet and as fierce as it's fun. Add a clever plot and a budding romance and this series opener is a slice of heaven. Seconds, please!"
—Catriona McPherson, multi-award-winning author of the Last Ditch Motel mysteries

"I DEVOURED it! There is nothing conventional about Misha Popp's flavorful debut. Sparkling with sinister magic, sugary pies, and vigilante homicide, Magic, Lies, and Poison Pies is rocking the Pushing Daisies vibe. When an avenging pie-maker's secrets are threatened, it's going to take more than magic and vintage swing dresses to circumvent a messy recipe for disaster. With inclusive characters, sharp pacing, and a dark sense of humor, Misha Popp is one of my new favorite authors."
—Olivia Blacke, author of the Brooklyn Murder mysteries