Let's Get Back to the Party (Paperback)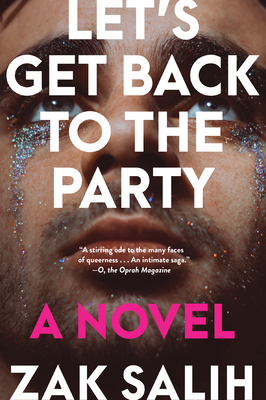 Staff Reviews
---
It is just weeks after the legalization of gay marriage in the U.S. in the summer of 2015.  We meet two men who grew up together in the D.C. suburbs and are at opposite ends of what it means to be a gay man at this time in American history.  Both are involved in obsessive cross-generational friendships. Sebastian has a complicated relationship with one of his out and proud high school students.  Oscar is spending time with a Stonewall generation novelist on the decline.  Sebastian is anxious to settle down and assimilate.  Oscar is infuriated by what he sees as the death of gay culture in favor of what he views as colorless banality.  I loved everything about this book.  It is beautifully written and full of profound insights on what happens when a formerly ostracized segment of society becomes incorporated into the general population and what that means, good and bad, for the individuals that are part of it.  Stunning!
— Kelly
Description
---
"A gorgeously written meditation on being a gay man in America now . . . A raw and captivating debut." —BookPage

Recommended by: O, the Oprah Magazine * BuzzFeed * The Millions * Cosmopolitan * Electric Literature * Literary Hub * Harper's Bazaar * Lambda Literary * LGBTQ Reads * Passport magazine * Paperback Paris * Debutiful * Book Riot * The Bay Area Reporter * The Advocate

It is 2015, weeks after the Supreme Court marriage equality ruling. A high school art history teacher, Sebastian Mote envies his queer students and their freedom to live openly the youth he lost to fear and shame. When he runs into his childhood friend Oscar Burnham at a wedding in Washington, DC, he can't help but see it as a second chance. Now thirty-five, the men haven't seen each other in more than a decade. But Oscar has no interest in their shared history, nor in the sense of belonging Sebastian craves. Instead, he's outraged by what he sees as the death of gay culture: bars overrun with bachelorette parties, friends coupling off and having babies. For Oscar, conformity isn't peace, it's surrender.
 
While Oscar and Sebastian struggle to find their place in a rapidly changing world, each is drawn into a cross-generational friendship that treads the line be­tween envy and obsession: Sebastian with one of his students, Oscar with an older icon of the AIDS era. And as they collide again and again, both men must reckon not just with each other but with themselves. Provocative, moving, and rich with sharply drawn characters, Let's Get Back to the Party introduces an exciting and contemporary new talent.

 
About the Author
---
Zak Salih lives in Washington, D.C. His writing has appeared in Crazyhorse, the Chattahoochee Review, the Millions, the Rumpus, and other publications. This is his first novel.
Praise For…
---
​"A miracle of a book. A love letter to queer friendship and queer love . . . that also, in its sparkling prose and exquisite storytelling, announces the arrival of a major talent."
—Nick White, author of How to Survive a Summer and Sweet Low

"With gorgeous, searching prose, Zak Salih looks beyond the gay culture wars to find the fractured souls within—and locates something deep and true and universal. This exceptional debut signals the arrival of a compelling new voice in fiction."
—Louis Bayard, author of Courting Mr. Lincoln

"[A] searching, incisive debut novel . . . Estranged for decades, Salih's dual protagonists spend the novel circling and avoiding each other, a dance of love, friendship and self-definition . . . Salih's novel thrums with details and moments that keep the material from ever edging toward the schematic. Instead, Let's Get Back to the Party is as rich in feeling and compelling in its storytelling as it is acute in its analysis. This gripping and thoughtful novel asks urgent questions about what it means to be a gay man in contemporary American culture."
—Shelf Awareness, starred review

"The shifting landscape for gay men in America animates Salih's heartfelt debut . . . The party may be changing, but reasons for celebration remain, as evidenced by Salih's passionate evocation." 
—Publishers Weekly

"An insightful examination of two of the many ways gay men present themselves in contemporary America."
—Kirkus Reviews

"A gorgeously written meditation on being a gay man in America now . . . Raw and captivating."
—BookPage

"Poignant and poetic . . . Readers will find a compelling exploration of the experiences of queer people from different generations as two modern-day gay men figure out whether they want to conform to traditional views of relationships and marriage or break free entirely."
—Booklist

"An insightful novel about what it means to be a gay man in a rapidly-changing America."
—Electric Literature, "27 Debuts to Look Forward To in the First Half of 2021" 

"The outpouring of praise and attention for this emotionally exacting novel is well-deserved. Not only because of the book's raw, brilliant prose and the undertow of its storytelling—subtle yet forceful—but also because of the way the author deals with issues of representation. Salih refuses to sanitize what it means to be queer and to be human . . . Instead, Salih allows them to be human first and queer second . . . What makes Let's Get Back to the Party so successful ultimately is the way in which it ignores or transcends so many of the issues that normally feel like an obligation when you're writing stories that involve LGBTQIA+ characters, such as making the characters fit into a heteronormative ideal of queerness. And as someone writing in this tradition myself, I appreciate the heavy emotional lifting Salih has accomplished, which I believe painstakingly carves more space in mainstream media for wider stories of representation."
—Fiction Writers Review

"Rich with sharply drawn characters and contemporary detail, provocative, and emotionally profound, Let's Get Back to the Party is sure to appeal to readers of Garth Greenwell, Alan Hollinghurst, Claire Messud, and Rebecca Makkai."
—Paperback Paris, "100 Most-Anticipated New Books of 2021"

"Let's Get Back to the Party is a gorgeous, raw, tender, trenchant novel about men figuring out how to live. At once gimlet-eyed and generous to his wonderfully drawn characters—fallible, lovable, and endlessly real—Salih paints a vivid portrait of the paradoxes of queer life in contemporary America, his characters navigating love and friendship in communities shaped both by freedom and fear, and by trauma that is both collective and individual. This is a stellar debut from a huge talent."
—Lydia Kiesling, author of The Golden State

"With an artist's eye for beauty and an art historian's for detail, Zak Salih excavates the lives of his characters and leaves no stone unturned to ask questions about what it means to be a queer individual, to be a queer community, to be queer alone and with others. Let's Get Back to the Party is a book for those of us who simultaneously adore and abhor the pains and ecstasies of social closeness—which is to say it's a book for us now, us all."
—Matt Ortile, author of The Groom Will Keep His Name

"Let's Get Back to the Party is a generous, incisive, richly drawn novel about our universal quest for connection across difference. Through brilliantly braided perspectives and a will-they/won't-they/should-they love story that will keep you turning the pages, Salih's strong debut captures the drama and wonder of our contemporary moment in a voice leavened with humor and heart."
—John Glynn, author of Out East: Memoir of a Montauk Summer
​"A miracle of a book. A love letter to queer friendship and queer love . . . that also, in its sparkling prose and exquisite storytelling, announces the arrival of a major talent."
—Nick White, author of How to Survive a Summer and Sweet Low

"With gorgeous, searching prose, Zak Salih looks beyond the gay culture wars to find the fractured souls within—and locates something deep and true and universal. This exceptional debut signals the arrival of a compelling new voice in fiction."
—Louis Bayard, author of Courting Mr. Lincoln

"[A] searching, incisive debut novel . . . Estranged for decades, Salih's dual protagonists spend the novel circling and avoiding each other, a dance of love, friendship and self-definition . . . Salih's novel thrums with details and moments that keep the material from ever edging toward the schematic. Instead, Let's Get Back to the Party is as rich in feeling and compelling in its storytelling as it is acute in its analysis. This gripping and thoughtful novel asks urgent questions about what it means to be a gay man in contemporary American culture."
—Shelf Awareness, starred review

"The shifting landscape for gay men in America animates Salih's heartfelt debut . . . The party may be changing, but reasons for celebration remain, as evidenced by Salih's passionate evocation." 
—Publishers Weekly

"An insightful examination of two of the many ways gay men present themselves in contemporary America."
—Kirkus Reviews

"A gorgeously written meditation on being a gay man in America now . . . Raw and captivating."
—BookPage

"Poignant and poetic . . . Readers will find a compelling exploration of the experiences of queer people from different generations as two modern-day gay men figure out whether they want to conform to traditional views of relationships and marriage or break free entirely."
—Booklist

"An insightful novel about what it means to be a gay man in a rapidly-changing America."
—Electric Literature, "27 Debuts to Look Forward To in the First Half of 2021" 

"The outpouring of praise and attention for this emotionally exacting novel is well-deserved. Not only because of the book's raw, brilliant prose and the undertow of its storytelling—subtle yet forceful—but also because of the way the author deals with issues of representation. Salih refuses to sanitize what it means to be queer and to be human . . . Instead, Salih allows them to be human first and queer second . . . What makes Let's Get Back to the Party so successful ultimately is the way in which it ignores or transcends so many of the issues that normally feel like an obligation when you're writing stories that involve LGBTQIA+ characters, such as making the characters fit into a heteronormative ideal of queerness. And as someone writing in this tradition myself, I appreciate the heavy emotional lifting Salih has accomplished, which I believe painstakingly carves more space in mainstream media for wider stories of representation."
—Fiction Writers Review

"Rich with sharply drawn characters and contemporary detail, provocative, and emotionally profound, Let's Get Back to the Party is sure to appeal to readers of Garth Greenwell, Alan Hollinghurst, Claire Messud, and Rebecca Makkai."
—Paperback Paris, "100 Most-Anticipated New Books of 2021"

"Let's Get Back to the Party is a gorgeous, raw, tender, trenchant novel about men figuring out how to live. At once gimlet-eyed and generous to his wonderfully drawn characters—fallible, lovable, and endlessly real—Salih paints a vivid portrait of the paradoxes of queer life in contemporary America, his characters navigating love and friendship in communities shaped both by freedom and fear, and by trauma that is both collective and individual. This is a stellar debut from a huge talent."
—Lydia Kiesling, author of The Golden State

"With an artist's eye for beauty and an art historian's for detail, Zak Salih excavates the lives of his characters and leaves no stone unturned to ask questions about what it means to be a queer individual, to be a queer community, to be queer alone and with others. Let's Get Back to the Party is a book for those of us who simultaneously adore and abhor the pains and ecstasies of social closeness—which is to say it's a book for us now, us all."
—Matt Ortile, author of The Groom Will Keep His Name

"Let's Get Back to the Party is a generous, incisive, richly drawn novel about our universal quest for connection across difference. Through brilliantly braided perspectives and a will-they/won't-they/should-they love story that will keep you turning the pages, Salih's strong debut captures the drama and wonder of our contemporary moment in a voice leavened with humor and heart."
—John Glynn, author of Out East: Memoir of a Montauk Summer