Spirit of the Harvest: North American Indian Cooking (Hardcover)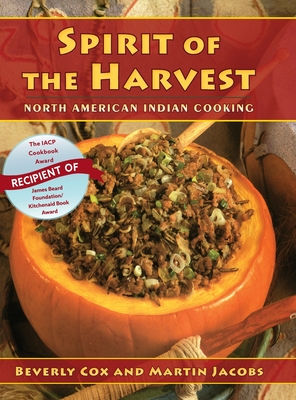 $102.44

Comes From Our Warehouse - Usually Ships in 3-10 Days
Description
---
Discover the Flavors of Native America from Coast to Coast
Presenting authentic American Indian recipes from every region, award winning cookbook author and food editor Beverly Cox worked with Native elders, food historians, chefs and home cooks to compile this impressive collection of recipes and food lore. From the Northeast to the Pacific Northwest, from the Great Lakes to the Gulf of Mexico, these 150 recipes reflect food traditions that evolved over centuries, and remain very much alive today. Roast Duck Stuffed with Wild Rice and Wild Mushrooms; Elk Stew with Acorn Dumplings; Smoked Salmon Soup; Zuni Corn Soup; Iroquois Leaf Bread; Ember Roasted Buffalo; Pueblo Fried Squash Blossoms; and Navajo Peach Crisp are but a sampling of the variety and ingenious use of natural and seasonal foods by Native American cooks.
Included in Spirit of the Harvest is a fully updated resources listing to assist in locating more exotic ingredients like fiddlehead ferns, acorn meal, and cattail pollen. This book is a must for all cooks wishing to celebrate and savor the culinary heritage of North America.
Also available from Echo Point Books in paperback, ISBN 1635619149.
Lovers of Beverly Cox's incomparable cuisine will also want to have her other cookbooks in the Spirit series: Spirit of the West (hardcover ISBN 1635617634) and Spirit of the Earth (hardcover ISBN 1635617898, paperback ISBN 1635616883).
256 pages, with 57 color photos.