Thrivin': The American Dream: A Story of Unwavering Determination, Adversity Too Heavy to Withstand, and A Sheer Grit to Win (Paperback)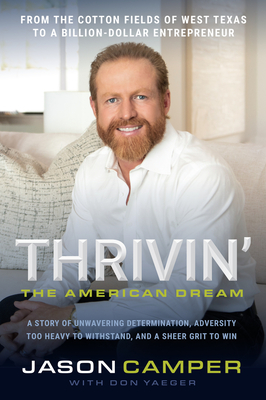 Description
---
From the cotton fields of West Texas to a billion-dollar entrepreneur

When Jason Camper launched Le-Vel with co-founder Paul Gravette, his guiding vision was to create a company, a brand, and a product line that had never been seen before. Over 10 million customers, approaching 3 billion dollars in sales, and 30 patents later, the inventor of the THRIVE premium product line has fulfilled each goal he set for himself, and he's ready for more.

In THRIVIN': The American Dream, Camper gets personal, sharing the grit, grace, and hard-earned wisdom that went into building a transformative wellness brand and achieving success on his own terms.

This refreshing memoir traces a path from troubled youngster to global entrepreneur, including candid discussions of the failures along the way which became steppingstones to a billion-dollar enterprise. Readers will also gain practical insights for pursuing their own ambitions in business and beyond.

Inspiring and timely, this is an essential read for leaders, aspiring entrepreneurs, and anyone seeking the courage and motivation to THRIVE.
About the Author
---
Jason Camper is an athlete, entrepreneur, innovator, philanthropist, co-founder, and co-CEO of Le-Vel, a premium grade nutritional supplement company he helped build into the fastest direct selling company to reach $2 billion in sales. Jason has led revolutionary change in the direct selling industry with Le-Vel's cloud-based model, premium-grade THRIVE product line, as well as inventing the first-of-its-kind wearable nutrition product. Today, Le-Vel serves more than 10 million customers worldwide. He now resides between Arizona, Colorado, and Mexico with his wife Tracy and their amazing dog Simon.

Don Yaeger is an 11-time New York Times bestselling author, longtime associate editor at Sports Illustrated, and one of the most in-demand public speakers on the corporate circuit today. He delivers an average of 70 speeches a year to an average annual audience of nearly 100,000. He also hosts the popular Corporate Competitor Podcast. He lives in Tallahassee, Florida with his wife and two children.