Cosmic Initiative: Restoring the Kingdom, Igniting the Awakening (Paperback)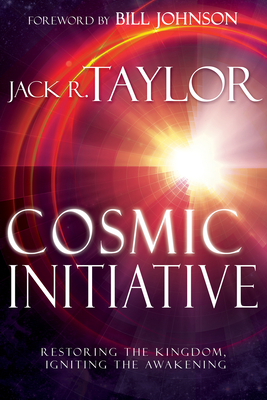 $16.99

Comes From Our Warehouse - Usually Ships in 3-10 Days
Description
---
Jesus never said Seek first about any pursuit or purpose except the kingdom of God.
But the church has essentially abandoned this central message, so that kingdom realities have become lost to us. Our neglect has been costly, because God's kingdom on earth--His cosmic initiative--has the authority and power to revolutionize our culture. This transformation occurs first within us and then around us, igniting the world with forgiveness, healings, miracles, righteousness, and peace.
The reason most people today do not seek the kingdom is that they have not seen it. Once they truly see it, they seek and follow the remarkable vision they have glimpsed. This is because discovering the kingdom is not just information but an adventure in revelation and transformation.
Well-known speaker and kingdom-seeker Jack Taylor invites us to be reintroduced to the kingdom of God and to experience the recovery of the kingdom gospel--leading to kingdom power, kingdom love, and the greatest kingdom harvest the world has ever seen.
About the Author
---
Jack R. Taylor's name has become synonymous with the message of the kingdom of God and the Spirit-filled life. He served for nearly seventeen years as pastor of the Castle Hills First Baptist Church, San Antonio, Texas, where God moved in revival, with an estimated two thousand people saved in the first six months. Since then, as president of Dimensions Ministries, Jack has pursued an itinerant ministry that has lasted almost forty years. Jack is a graduate of Hardin-Simmons University and Southwestern Baptist Theological Seminary, and he received an honorary doctorate from St. Thomas Christian College in Jacksonville, Florida. In addition to Cosmic Initiative, he is the author of thirteen books, including the best-selling The Key to Triumphant Living, with one million copies in print. Jack has two children, six grandchildren, and two great-grandchildren. He and his first wife, Barbara, were married for more than forty-seven years until she succumbed to cancer in 2001. In 2002, he married Jerry, who passed away after her own battle with cancer. Since 2004, Jack has been married to Friede, who travels and ministers with him. Jack is currently working with his son, Tim, to develop a network of spiritual sons and daughters across the world. For most of his ministry, Jack has instinctively fathered spiritual children in the ministry, counseling and encouraging young men and women to seek and expand the kingdom of God; today, some two hundred people formally consider Jack Taylor their spiritual father and are connected to him through Sonslink, a ministry committed to modeling the biblical father-son paradigm. Jack and Tim continue to explore and expound on this paradigm as the most significant relationship in the kingdom of God, believing it to be the context for abundant living as well as kingdom expansion.