Brunswick Stew: A Virginia Tradition (Paperback)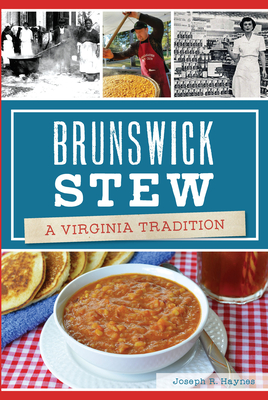 Description
---
With roots in Native American, African and European cooking traditions, Brunswick stew developed in colonial- and Federal-era Virginia, when squirrel was a necessary ingredient.
By the nineteenth century, the mouthwatering delicacy had become an important part of politicking, celebrating and family gatherings. At the same time, it spread beyond Virginia, following barbecue culture into the Carolinas, Georgia, Tennessee and Kentucky. Drawing on historical and contemporary sources, author, award-winning barbecue cook and Brunswick stew expert Joe Haynes entertains with barbecue stew history, legend and lore, complete with authentic recipes.
About the Author
---
Joe's passion for Virginia's food traditions led him to author the book Brunswick Stew: A Virginia Tradition. Joe is also the author of Virginia Barbecue: A History and the Virginia Barbecue Proclamation that unanimously passed as a House Joint Resolution in 2016 wherein it states, "Resolved by the House of Delegates, the Senate concurring, that the General Assembly designate May through October, in 2016 and in each succeeding year, as Virginia's official Barbecue Season."