Beautiful Music (Paperback)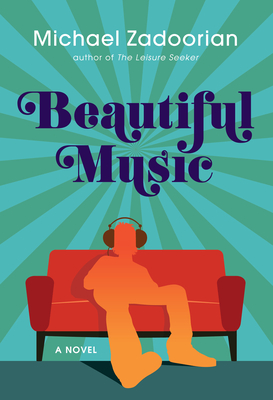 Staff Reviews
---
I am such a huge fan of this book and this author. Beautiful Music, set in 1970s Detroit is just what the title states. A young Danny Yzemski is growing up chunky kid with a love of pop radio and an turbulent home life. He starts his freshman year in a new school being confronted by racial tension issues previously he only experienced through the news and his mother's snide comments. When a tragedy happens, Danny's mom becomes more and more obsessed with the world's cultural changes and tries to drive them out of her life with booze and pills. In this storm, Danny finds comfort in music. Like beautiful music, this book is permeated with the power to make you sad, lift you up, and carry you home.
— From
Kelly
Description
---
Beautiful Music has been named a 2019 Michigan Notable Book
Adult Fiction Winner for the 2018 Great Lakes Great Reads program
One of McLean & Eakin's Favorite Michigan Books of 2018
One of the Voice news Michigan Bestsellers for 2018 in Fiction
"Danny Yzemski tunes out a dysfunctional family with Frank Zappa and Iggy Pop, shaking his countercultural fist at The Man in this eight-track flashback of a novel set in 1970s Detroit."
--O, the Oprah Magazine, included in Summer Reading Picks/One of 'O's Top Books of Summer
"Beautiful Music is a sweet and endearing coming-of-age tale measured in album tracks."
--Wall Street Journal
"For Danny, cracking the seal on a fresh piece of wax and dissecting cover art and liner notes are acts of nigh religious experience that unveil to him a community of fellow rockers across Detroit...It's in these small moments--a lonely boy experiencing premature nostalgia--that Zadoorian shines."
--Washington Post
"His third novel--Beautiful Music, about a radio-loving teen's transformation through music during the early '70s in Detroit... is] rich with Detroit details (Korvette's, Bill Bonds, Iggy Pop), and] follows Danny through racial tensions at high school, his changing body and his imploding family life."
--Detroit Free Press
" Zadoorian's] new novel speaks of death, race, music and youth in a voice that has been compared to Nick Hornby and Tobias Wolff. It is set in 1970's Detroit at the cusp of punk, and centers around high school loner and music fanatic Danny Yzemski. One to look forward to for fans of rock music and sad, funny writing."
--Cleveland Plain Dealer
"Zadoorian takes us back to Detroit in the 1970s, which was still throbbing from the 1967 rebellion, and was in the throes of the energy crisis and the sexual revolution. Protagonist Danny Yzemski finds that growing up in such times can be...complicated. But with a little help from Iggy Pop, the MC5, and Led Zeppelin, he finds just the boost he needs to survive--and even grow a bit."
--Detroit Metro Times, included in Summer Reading roundup
"Beautiful Music is not only a testament to the rockin' jams that propelled Motown to become reknown as Detroit Rock City, it swells with the beautiful music of a lively soul...Beautiful Music is touching, hilarious, and heartbreaking, much like the gamut of emotions you may have felt the first time you heard your favorite song. And much like that first, mind-opening musical experience, you'll return to certain passages within this novel because like the perfect song, it hits all the right notes--something you can feel deep in your gut."
--Michigan Quarterly Review
Set in early 1970s Detroit, a divided city still reeling from its violent race riot of 1967, Beautiful Music is the story of one young man's transformation through music. Danny Yzemski is a husky, pop radio-loving loner balancing a dysfunctional homelife with the sudden harsh realities of freshman year at a high school marked by racial turbulence.
But after tragedy strikes the family, Danny's mother becomes increasingly erratic and angry about the seismic cultural shifts unfolding in her city and the world. As she tries to hold it together with the help of Librium, highballs, and breakfast cereal, Danny finds his own reason to carry on: rock and roll. In particular, the drum and guitar-heavy songs of local legends like the MC5 and Iggy Pop. In the vein of Nick Hornby and Tobias Wolff, yet with a style very much Zadoorian's own, Beautiful Music is a touching story about the power of music and its ability to save one's soul.
About the Author
---
Michael Zadoorian is the author of the critically praised The Leisure Seeker--now a film starring Helen Mirren and Donald Sutherland, released by Sony Pictures Classics this year. Zadoorian is a recipient of a Kresge Artist Fellowship in the Literary Arts, the Columbia University Anahid Literary Award, the Great Lakes Colleges Association New Writers Award, and the Michigan Notable Book Award. His other books are Second Hand: A Novel, and the story collection The Lost Tiki Palaces of Detroit. His fiction has appeared in the Literary Review, Beloit Fiction Journal, American Short Fiction, Witness, Great Lakes Review, and the North American Review. He lives with his wife in the Detroit area.