The Museum of Modern Love (Hardcover)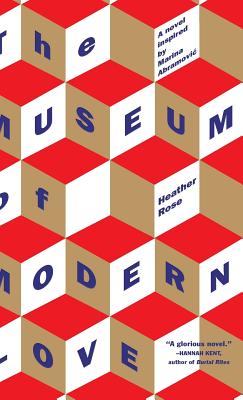 $29.95
Currently Out of Stock - Available to Ship From Our Warehouse in 3-5 Days
Staff Reviews
---
It's pretty rare for a book to make me cry anymore, but I found my eyes welling up with tears of heartbreak and joy and the end of The Museum of Modern Love. This book is a fictionalized account of the life of the performance artist Marina Abromovic, a study of her most famous work and the effect it had on the individuals who witnessed it. I accidentally happened upon the installation of her performance piece in its last few days in May of 2010. I had no idea what I was looking at, but was deeply affected by it and the retrospective that ran concurrently. I've been a super fan of the artist ever since. Rose captures the complexity of Abromovic's work and the woman herself. It helps to have a moderate degree of art, architecture, and musical history to enjoy this novel. I am fortunate enough to have all three and was able to appreciate the references fully. That's not meant to sound snobbish, just factual. I did wonder throughout if someone with very little of these things would appreciate it as much without feeling like they have to stop and Google every few pages. My guess is that anyone would feel enriched by this novel. It speaks beautifully to the general human condition that no one needs references to understand. Just as I didn't need to understand what I'd walked into when I saw Abromovic's The Artist Is Present all those years ago to be moved. (Highly recommended pairing: watch the 2012 documentary directed by Matthew Akers). 
— Kelly
December 2018 Indie Next List
---
"Fascinating fiction based on the true story of artist Marina Abramović's 2010 art performance in which she sat face-to-face, eye-to-eye, with museum visitors, one at a time, for 75 days. She sat unmoving, in the same pose every day, her expression unchanged except for occasional tears. The performance had surprisingly deep effects on both visitors who sat with her and visitors who simply observed. The story focuses on several fictional characters' almost-obsessive attraction to the performance and its subsequent influence on their lives. Not unlike the apparent enchantment of the performance, it was hard to tear my eyes from the page."
— Kay Wosewick, Boswell Book Company, Milwaukee, WI
Description
---
"Art will wake you up. Art will break your heart. There will be glorious days. If you want eternity you must be fearless." --Heather Rose, The Museum of Modern Love Our hero, Arky Levin, has reached a creative dead end. An unexpected separation from his wife was meant to leave him with the space he needs to work composing film scores, but it has provided none of the peace of mind he needs to create. Guilty and restless, almost by chance he stumbles upon an art exhibit that will change his life. Based on a real piece of performance art that took place in 2010, the installation that the fictional Arky Levin discovers is inexplicably powerful. Visitors to the Museum of Modern Art sit across a table from the performance artist Marina Abramovic, for as short or long a period of time as they choose. Although some go in skeptical, almost all leave moved. And the participants are not the only ones to find themselves changed by this unusual experience: Arky finds himself returning daily to watch others with Abramovic. As the performance unfolds over the course of 75 days, so too does Arky. As he bonds with other people drawn to the exhibit, he slowly starts to understand what might be missing in his life and what he must do. This is a book about art, but it is also about success and failure, illness and happiness. It's about what it means to find connection in a modern world. And most of all, it is about love, with its limitations and its transcendence.