Uncle Shawn and Bill and the Almost Entirely Unplanned Adventure (Paperback)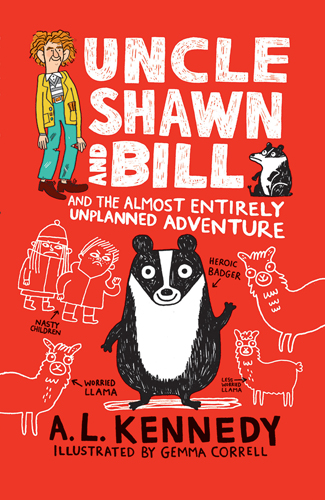 Email or call for price.
Special Order - Call 804-788-1594 or email info@fountainbookstore.com for availability
Description
---
The first book in a hilarious, heartwarming series for children from award-winning author A. L. Kennedy, illustrated by Gemma Correll.

Badger Bill needs rescuing. He's been kidnapped by two nasty sisters who are about to make him fight a boxing match against three even nastier dogs.

The four most depressed llamas in the history of llamas need rescuing too. They are about to be turned into llama pies. But never fear - Uncle Shawn is here! He loves rescuing things. He has a rescuing plan, which involves dancing, and a mole, and an electric fence.

What could possibly go wrong?
Praise For…
---
"Oh, how odd and wonderful children will love a perfectly odd and wonderful little book by the acclaimed Scottish novelist A. L. Kennedy, Uncle Shawn and Bill and the Almost Entirely Unplanned Adventure. Kennedy lets loose a zany adventure in which a handsome badger is kidnapped by the miserable McGloone family, which keeps a cupboard of knives for every wretched occasion from "peeling penguins" to "dicing goldfish." Also on the McGloone chopping block are four depressed llamas who are soon to be turned into llama puddings and dumplings and possibly even a handbag for the meaty matriarch Myrtle McGloone. Everyone's rescue depends on a crazy-haired, kindhearted uncle (whose uncle he is isn't revealed, because Kennedy delights in wordplay and wit, and appreciates the absurdity of unanswered questions) who has a faithful mole in one pocket of his tweed jacket and some cheese crackers in the other. Uncle Shawn has a half-baked plan to save the day, and hopes in the process to find himself the pleasure of new friends. The climax of escape is indeed a triumph, with the McGloones meeting an end befitting their outrageous terribleness. But the real fun here is the divinely cracked world Kennedy creates, matched nicely with Gemma Correll's very funny illustrations. Yes, please, to the villainous McGloone sisters and their eyes "like old, bad eggs" and "thick, greasy, left-over-sausage kind of lips." And to the nasty McGloone children named Fred, Dusty, Bettina, Socket Wrench and Small. And to random asides on matters like Things That Make a Wasp Giggle. Kennedy's ability to uncork all this cockamamie and turn it into an artful, and quite dear, breeze of a tale is a delight. Why shouldn't a badger who likes to snack on hot chocolate and lettuce sandwiches become best friends with a lonely and heroic grown man?" -- The New York Times

"Kennedy's madcap yarn has something of Roald Dahl's Fantastic Mr. Fox about it. …. Correll's frequent cartoon line drawings showcase many of the story's absurdities, giving them hilarious labels and captions to boot. Vaguely sinister and overtly ridiculous, it's a riot of a read for those looking for an off-kilter adventure." -- Booklist

"Correll's clever black-and-white cartoons add to the fun of reading this laugh-out-loud story." -- Literacy Daily

"This book is bananas, and I mean that in the most loving sense of the word. … Black and white cartoons throughout the book add to the laughs. … Give this to your Roald Dahl and David Walliams fans and expand their global literary palate!" -- Mom Read It