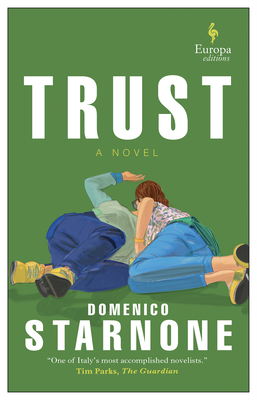 Staff Reviews
---
Two Italian lovers are in a volatile relationship and after arguing Teresa suggests that they each tell one another a terrible secret about themselves that they have never told anyone else and that would bond them together. Pietro reluctantly agrees and when they break up shortly after he is haunted by her knowledge of his shameful deed. They both go on with their lives but are forever connected. The opening sentences are swirling and twisting meditation on love that have me reading them over and over again. Trust may not be your favorite novel you've ever read. Most of the characters were not easy to like for me. But the way they twist and turn around issues of love involving loyalty, longevity, and forms of fidelity and types of love itself are fascinating. The translation by Jhumpa Lahiri is masterful and the translator's note at the end is extraordinary. It's a work of art itself.
— From
Kelly
Description
---
A MOST ANTICIPATED BOOK OF FALL 2021
Following the international success of Ties and the National Book Award-shortlisted Trick, Domenico Starnone gives readers another searing portrait of human relationships and human folly.
Pietro and Teresa's love affair is tempestuous and passionate. After yet another terrible argument, she gets an idea: they should tell each other something they've never told another person, something they're too ashamed to tell anyone. They will hear the other's confessions without judgment and with love in their hearts. In this way, Teresa thinks, they will remain united forever, more intimately connected than ever.
A few days after sharing their shameful secrets, they break up. Not long after, Pietro meets Nadia, falls in love, and proposes. But the shadow of the secret he confessed to Teresa haunts him, and Teresa herself periodically reappears, standing at the crossroads, it seems, of every major moment in his life. Or is it he who seeks her out?
Starnone is a master storyteller and a novelist of the highest order. His gaze is trained unwaveringly on the fault lines in our public personas and the complexities of our private selves. Trust asks how much we are willing to bend to show the world our best side, knowing full well that when we are at our most vulnerable we are also at our most dangerous.