Breasts and Eggs (Hardcover)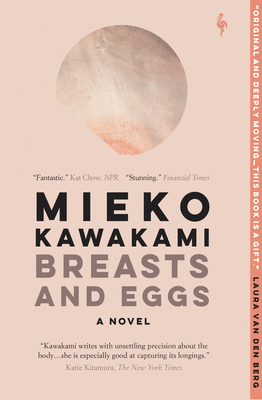 Staff Reviews
---
Mieko Kawakami's deep dive into the daily vexations of existence for contemporary Japanese women moved me in a way that no book has for a very long time. The story follows three women (two sisters with a large age difference and one of their pre-teen daughters) , their deceased mother and grandmother, and various female friends and work colleagues. With this broad sample we are able to piece together a grim picture of what it is like to be a woman in Japan today and in the recent past. The writing itself is spare and vibrant with tiny details which put you immediately and intimately in each scene which makes the emotional blows, when they happen, all the more devastating. Just as in real life, you're just minding your own business, going out to eat or whatever (reading a book), and it slaps you in the face with a horrifying revelation, an ugly confrontation, an unwanted intrusion from the past. I had to put the book down after several passages to just absorb the breathtaking moments of clarity for myself and the characters. As each one traverses impossible pains to achieve self-acceptance and some peace, we share in their joy at claiming their futures for themselves. Exceptional reading for book clubs and sure to be in my top 5 of 2020.
— From
Kelly
Description
---
The story of three women by a writer hailed by Haruki Murakami as Japan's most important contemporary novelist, WINNER OF THE AKUTAGAWA PRIZE.
"Breasts and Eggs took my breath away."--HARUKI MURAKAMI
A MOST ANTICIPATED BOOK OF 2020
Vogue・Thrillist・The Millions・ Literary Hub・Now Toronto・Metropolis Japan
Challenging every preconception about storytelling and prose style, mixing wry humor and riveting emotional depth, Kawakami is today one of Japan's most important and best-selling writers. She exploded onto the cultural scene first as a musician, then as a poet and popular blogger, and is now an award-winning novelist.
Breasts and Eggs paints a portrait of contemporary womanhood in Japan and recounts the intimate journeys of three women as they confront oppressive mores and their own uncertainties on the road to finding peace and futures they can truly call their own.
It tells the story of three women: the thirty-year-old Natsu, her older sister, Makiko, and Makiko's daughter, Midoriko. Makiko has traveled to Tokyo in search of an affordable breast enhancement procedure. She is accompanied by Midoriko, who has recently grown silent, finding herself unable to voice the vague yet overwhelming pressures associated with growing up. Her silence proves a catalyst for each woman to confront her fears and frustrations.
On another hot summer's day ten years later, Natsu, on a journey back to her native city, struggles with her own indeterminate identity as she confronts anxieties about growing old alone and childless.
Kawakami's first novella My Ego, My Teeth, and the World, published in Japan in 2007, was awarded the Tsubouchi Shoyo Prize for Young Emerging Writers. The following year, she published Breasts and Eggs as a short novella, and won praise from Yoko Ogawa and Haruki Murakami. The newly expanded Breasts and Eggs, already hailed as a "feminist masterwork" (Entertainment Weekly), is her first novel to be published in English.
"Mieko Kawakami's first full-scale novel to be translated from Japanese into English reveals what a Catherine Wheel of talent she is, how unplaceable and unique. How forceful. ...] The way she moves among her characters here will make clear why Breasts and Eggs is the Makioka Sisters of its time."--John Freeman in Literary Hub
"Mieko Kawakami lobbed a literary grenade into the fusty, male-dominated world of Japanese fiction with Breasts and Eggs."--The Economist
About the Author
---
Born in Osaka prefecture in Japan, Mieko Kawakami made her literary debut as a poet in 2006. Her first novella My Ego, My Teeth, and the World, published in 2007, was awarded the Tsubouchi Shoyo Prize for Young Emerging Writers. The following year, Kawakami published Breasts and Eggs as a novella, and won Japan's most prestigious literary award, the Akutagawa Prize. In 2016, she was selected as Granta Best of Young Japanese Novelist. The newly expanded Breasts and Eggs is her first novel to be published in English. Kawakami is also the author of the novels Heaven, The Night Belongs to Lovers, both of which will be published by Europa Editions. She lives in Tokyo.