The Southern Slow Cooker: Big-Flavor, Low-Fuss Recipes for Comfort Food Classics [A Cookbook] (Paperback)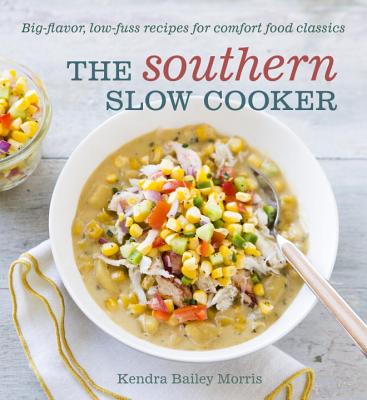 Description
---
A collection of 60 soulful, comforting, and wonderfully convenient recipes for Southern favorites—from Black Eyed Peas with Stewed Tomatoes to Country-Style Pork Ribs and Molasses Gingerbread.
Cooking delicious, soul-warming Southern food that the whole family will love has never been easier! Whether it's a big pot of black-eyed peas, fall-apart tender pulled pork, or creamy apple butter, the greatest Southern dishes have one thing in common: they taste best when they're cooked low and slow. 

With more than sixty recipes for down-home favorites, ranging from Chicken and Cornmeal Dumplings to Buffalo Stout Beer Chili to Brown Beans and Fatback, The Southern Slow Cooker is packed with real Southern flavor. Author Kendra Bailey Morris presents regional classics from all over the South: church potlucks, Cajun and Creole traditions in the bayou, even her West Virginia granny's old recipe book. Morris carefully tested and adapted each recipe for the home kitchen, and the result is a treasure for busy home cooks everywhere. With hardly any active cooking time and featuring affordable ingredients, every dish is simple, convenient, and downright delicious.

All of these satisfying, flavor-packed, and wonderfully simple recipes allow you to make the food you love in the time you have available—and will have you and your family begging for seconds.
About the Author
---
KENDRA BAILEY MORRIS is a cookbook author, food writer, recipe developer, and television host. Her writing appears in Better Homes and Gardens, NPR's Kitchen Window, CNN's Eatocracy, Saveur, Richmond Times Dispatch (where she was a food and recipe columnist for four years), the Associated Press, Washington Post, and Richmond Magazine. She served as a judge for the 2011 and 2013 James Beard Awards, and has a master's degree in creative writing from Virginia Commonwealth University.
Praise For…
---
 "I'll admit that my slow cooker has been gathering dust lately, but Kendra Bailey Morris's The Southern Slow Cooker may convince me to take it off the shelf. These updated versions of slow-cooker classics showcase Kendra's farm-to-table sensibilities and fresh, farmers' market ingredients—proving that slow cooking doesn't automatically involve a can opener. There are enough throwback recipes here to satisfy traditionalists, but also innovative new ways to use modern moms' favorite weeknight helper."
—Virginia Willis, author of Bon Appétit, Y'all and Basic to Brilliant, Y'all
 
 
"Kendra's Buttermilk, Corn, and Chive Spoonbread is just one of the really good reasons to grab this book. These recipes are packed with real Southern flavor, and still take into account the realities of home cooks' busy schedules. With plenty of cooking tips and drink pairings to boot, The Southern Slow Cooker will inform slow cooker newbies and inspire old pros who are looking for some new tricks." 
 —Martha Foose, author of Screen Doors and Sweet Tea and A Southerly Course