Image Transfer Workshop: Mixed-Media Techniques for Successful Transfers (Paperback)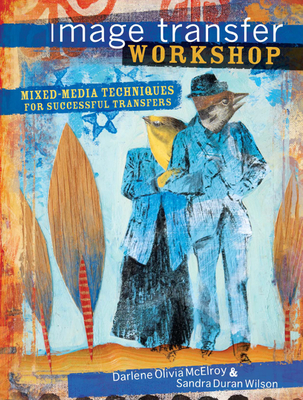 $24.99
Not available for purchase
Description
---
No Fear Transfers
If you have never tried image transfers or have experienced image transfer mishaps, then Image Transfer Workshop is for you. This book presents step-by-step techniques for 35 image transfer processes, extensive tips for fixing mishaps and examples of how to combine transfers in finished pieces of mixed-media art.
This comprehensive guide features:
35 Techniques: This book focuses exclusively on making transfers--from simple tape and gel medium transfers to more complex and out of the box techniques, like solar silk screens and plastic wrap transfers.
Troubleshooting: Image Transfer Workshop includes extensive answers to help fix problems in transfers gone wrong. You'll learn what to watch for, what to do to get great transfers every time.
Dual Styles, Dual Approaches: The authors' different styles illustrate how transfer techniques can take on completely different looks. Finished pieces of art for each technique and a section of completely stepped-out projects are sure to inspire you
Let Image Transfer Workshop help build your image transfer confidence.
About the Author
---
Darlene Olivia McElroy has taught a variety of mixed-media subjects at the collegiate level and has led workshops at local craft stores as well as in her studio. She has received two Best in Mixed-Media awards from the Contemporary Hispanic Market (2005 and 2006) as well as Best Dimensional and Best of Show at the Faces of Women in Las Vegas and New Mexico. Sandra Duran Wilson has been teaching Alternative Printmaking at Santa Fe Community College for the last three years, and she teaches workshops at a variety of venues. She received the Best in Printmaking award in 2002 and the Best in Mixed-Media award in 2004, both in the Contemporary Hispanic Market.