The Art of Gathering: How We Meet and Why It Matters (Hardcover)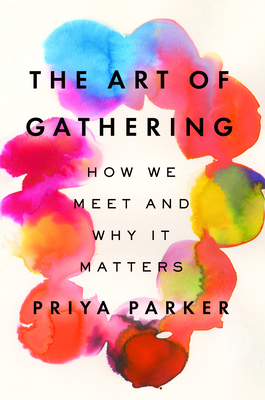 $28.00
Currently Out of Stock - Available to Ship From Our Warehouse in 3-5 Days
Staff Reviews
---
This book had me from the title. On a personal level, being in the ministry world most of my 20s, gatherings large and small were my bread and butter. But Parker is very strong in looking at the why behind events and meetings, as much as the how. This book is great for the business leader, the casual dinner party host, or the person who dreams of having deeper connections with the community around them. The Art of Gathering has the chance to be the next Know Your Why, and change the landscape by helping us to remember how to come together as one human family.
— From
Chris
Description
---
"Hosts of all kinds, this is a must-read!" --Chris Anderson, owner and curator of TED

A bold new approach to how we gather that will transform the ways we spend our time together--at work, at home, in our communities, and beyond.

In The Art of Gathering, Priya Parker argues that the gatherings in our lives are lackluster and unproductive--which they don't have to be. We rely too much on routine and the conventions of gatherings when we should focus on distinctiveness and the people involved. At a time when coming together is more important than ever, Parker sets forth a human-centered approach to gathering that will help everyone create meaningful, memorable experiences, large and small, for work and for play.

Drawing on her expertise as a facilitator of high-powered gatherings around the world, Parker takes us inside events of all kinds to show what works, what doesn't, and why. She investigates a wide array of gatherings--conferences, meetings, a courtroom, a flash-mob party, an Arab-Israeli summer camp--and explains how simple, specific changes can invigorate any group experience.

The result is a book that's both journey and guide, full of exciting ideas with real-world applications. The Art of Gathering will forever alter the way you look at your next meeting, industry conference, dinner party, and backyard barbecue--and how you host and attend them.
About the Author
---
Priya Parker is the founder of Thrive Labs, at which she helps activists, elected officials, corporate executives, educators, and philanthropists create transformative gatherings. Trained in the field of conflict resolution, Parker has worked on race relations on American college campuses and on peace processes in the Arab world, southern Africa, and India. She studied organizational design at M.I.T., public policy at the Harvard Kennedy School, and political and social thought at the University of Virginia. She lives in Brooklyn, New York.
Praise For…
---
"A long overdue and urgent manifesto." —Seth Godin

"The Art of Gathering is one of the most transformative books I've read in years. It has fundamentally changed I how run meetings, attend conferences, and even arrange dinner with friends. Equally important, it has reminded me why people come together in the first place — and why we should treat every gathering as an opportunity to deepen our shared humanity." —Daniel H. Pink, author of When and Drive

"As social animals, humans gather, meet, and bond—seeking meaning, purpose, creative expression, and more. In almost all cases this is an unconscious process leading to subtle frustration and a lack of satisfaction. For the last few years I've avoided social gatherings because I find them meaningless and banal. I learned much from this book. Priya Parker has created both an art and a science to gathering in ways that can bring joy and fulfillment to any meeting." —Deepak Chopra  

"[A] remarkable new book about how we spend our time together, at work, at home, and beyond. If you want to get more out of every event, whether it's with your boss and co-workers or friends and family, The Art of Gathering can help." —Bustle
"[A] fantastic book . . . . Good things happen when people connect. Especially when we follow Priya's sage advice." —Forbes

"Enthusiastically delivered formulas for better get-togethers… useful to those whose job it is to plan meetings, conferences, and the like and a worthy survival manual for consumers of the same." —Kirkus Reviews

"This clear and engaging book sets down many things you thought you knew, until you find yourself remembering that you did not attend to its simple rules at the last significant event you hosted.… A passion for successful encounters enlivens every page." —Sherry Turkle, author of Reclaiming Conversation: The Power of Talk in a Digital Age and Alone Together

"We're more connected than ever. But it doesn't really feel that way. We talk on the phone less than we used to, but we spend more time in front of screens, or plugged into earbuds. We're constantly interacting, but not always communicating on a meaningful level. We're busy, but we're not often getting a lot done. Priya Parker aims to change that. In her new book The Art of Gathering: How We Meet and Why It Matters, Parker sets out to make our lives more productive, and our interactions more meaningful." —Debbie Millman, Design Matters

"A brilliant and eminently practical guide! The Art of Gathering will open your eyes to just how often we gather – and how we can turn those mundane events into dazzling opportunities for meaning, dreaming, and doing.  This book should be mandatory reading for everyone from the business executive to the community activist, the conflict resolution specialist to the dinner host.  Concrete advice that will forever change the way you gather." —Daniel L. Shapiro, founder of the Harvard International Negotiation Program and author of Negotiating the Nonnegotiable

"Don't read this book alone. Read it at a gathering of friends, in a book club, with a team of colleagues, or on a family reunion. But read it—for its wisdom, its charm, its insight, and its ability to make every encounter with others more meaningful and enjoyable. The Art of Gathering is a book long overdue, and just in time." —Bruce Feiler, bestselling author of The Secrets of Happy Families and Walking the Bible  "Many of the best things in life happen when people gather. So it's remarkable how little conscious intent goes into planning such moments. Thank goodness for this book. It opens up new ways of thinking about wonderful gatherings with a delicious confection of smartly-defined concepts and detailed examples. Hosts of all kinds, this is a must-read!" —Chris Anderson, owner and curator of TED

"Priya Parker's The Art of Gathering is brilliant. The book is a timely reminder: It's our human-to-human links that make the most meaningful moments of our lives. Page by page, Parker offers a decoder ring for the secret forces at work when we gather for business, crises or celebration. What to leave out, where to meet, how to charm—it's all here, explained with unforgettable stories and clever tips. You'll only put this book down because it will make you so hungry for a gathering of your own." —Joshua Cooper Ramo, author of The Seventh Sense and The Age of the Unthinkable