Middlesex: A Novel (CD-Audio)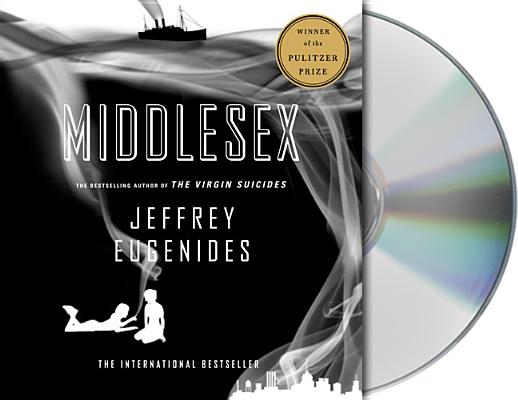 $49.95
Email or call for price.
Description
---
Winner of the 2003 Pulitzer Prize for Fiction and the Audie Award for best unabridged fiction, Middlesex marks the fulfillment of a huge talent, named one of America's best young novelists by both Granta and The New Yorker.

In the spring of 1974, Calliope Stephanides, a student at a girls' school, Grosse Pointe, MI, finds herself drawn to a chain-smoking, strawberry-blonde classmate with a gift for acting. The passion that furtively develops between them - along with Callie's failure to develop - leads Callie to suspect that she is not like other girls. The explanation for this shocking state of affairs takes us out of suburbia - back before the Detroit race riots of 1967, before the rise of the Motor City, to 1922, when the Turks sacked Smyrna and Callie's grandparents fled for their lives, back to a tiny village in Asia Minor where two lovers, and one rare genetic mutation, set in motion the metamorphosis that will turn Callie into a being both mythical and perfectly real: a hermaphrodite.

Sprawling across eight decades - and one unusually awkward adolescence - Jeffrey Eugenide's long-awaited second novel is a grand, utterly original fable of crossed bloodlines, the intricacies of gender, and the deep, untidy promptings of desire.
About the Author
---
Jeffrey Eugenides was born in Detroit and attended Brown and Stanford Universities. His first novel, The Virgin Suicides, was published by FSG to great acclaim in 1993, and he has received numerous awards for his work. In 2003, he received the Pulitzer Prize for his novel Middlesex (FSG, 2002), which was also a finalist for the National Book Critics Circle Award, the International IMPAC Dublin Literary Award, and France's Prix Médicis. The Marriage Plot (FSG, 2011) was a finalist for the National Book Critics Circle Award, and won both the Prix Fitzgerald and the Madame Figaro Literary Prize. His collection of short stories, Fresh Complaint, is from FSG (2017). Eugenides is a professor of creative writing in the Lewis Center for the Arts at Princeton.

Kristoffer Tabori has been involved in the world of television, film and theatre since he was six years old.  As a director he won an Emmy, The Theatre World Award, The LA Drama Critics Circle Award, the LA Weekly Award, and ten Drama-logue Awards.  He has lent his voice to a number of films including Alpha Protocol, Star Wars: The Force Unleashed - Ultimate Sith Edition, Endwar, and Spider-Man: Web of Shadows and in television to Avatar: The Last Airbender and The Adventures of Don Coyote and Sancho Panda.  Tabori has read a range of Earphones Award-winning audiobooks.  His work includes narrating Jeffrey Eugenides's Middlesex, Jack Finny's Invasion of the Body Snatchers, and the compilation Tales for a Stormy Night.
Praise For…
---
"Jeffrey Eugenides is a big and big-hearted talent, and Middlesex is a weird, wonderful novel that will sweep you off your feet." —Jonathan Franzen

"The author is a gifted storyteller who relates 10 decades of one Greek family's life with evocative words and poignant images, which please the ear and mind. Kristoffer Tabori's dramatization gives a strong sense that he's savoring the telling." —Audio File

"Without a doubt, this audio edition of Eugenide's long-awaited second novel represents an acme of the audiobook genre: the whole equals more than the sum of its parts…Tabori's performance of the text is phenomenal…Not only are his interpretations of the characters astonishingly credible, but his internalization of the narrative is nothing short of amazing." —Publisher's Weekly, Starred Review

"What made me fall in love with audiobooks was not so much the story (which is amazing), but rather the narration of the book done by Kristoffer Tabori. This performance, for me, elevated audiobooks from a convenient way to get more books 'read' to an actual performance art." —Brain Candy Book Reviews