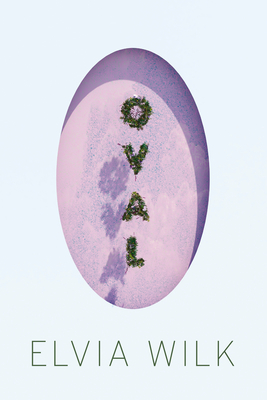 Staff Reviews
---
This rollicking dystopian reminded me of Stanislaw Lem's Futurological Congress and other classic works of trippy science fiction from Philip K. Dick to The Matrix movies. Combine these with a treatise on modern love, commentary on greenwashing, deflection through emoji use and a very, very bad rash and you have Oval. Berlin in the very near future is even more unaffordable and corporations rule posturing as benevolent overlords while existing solely to turn a profit at any cost. Anja and Louis have moved into an artificial mountain community rent-free in exchange for their silence about the eco-settlement's grotesque and life-threatening failures. Navigating their relationship, careers, and bizarre weather, the couple struggles to survive and make meaning of it all. The book is very, very funny and also a scary warning of what our near future may become.
— From
Kelly
Description
---
"Elvia Wilk's Oval is a marvel. At the core of this seductive, acute, superbly-contemporary update of mid-period J.G. Ballard lies a deep-beating, deep-dreaming heart." --Jonathan Lethem
"A fascinating near-future exploration of relationships, sustainability, and power. An extraordinarily accomplished debut novel." --Jeff VanderMeer, author of Borne and Annihilation
In the near future, Berlin's real estate is being flipped in the name of "sustainability," only to make the city even more unaffordable; artists are employed by corporations as consultants, and the weather is acting strange. When Anja and Louis are offered a rent-free home on an artificial mountain--yet another eco-friendly initiative run by a corporation--they seize the opportunity, but it isn't long before the experimental house begins malfunctioning.
After Louis's mother dies, Anja is convinced he has changed. At work, Louis has become obsessed with a secret project: a pill called Oval that temporarily rewires the user's brain to be more generous. While Anja is horrified, Louis believes he has found the solution to Berlin's income inequality. Oval is a fascinating portrait of the unbalanced relationships that shape our world, as well as a prescient warning of what the future may hold.
About the Author
---
Elvia Wilk is a writer and editor living in New York and Berlin. She writes about art, architecture, and technology for several publications, including frieze, Artforum, e-flux, Metropolis, Mousse, Flash Art, Art in America, and Zeit Online.
Coverage from NPR