Are You a Machine?: The Brain, the Mind, And What It Means to Be Human (Paperback)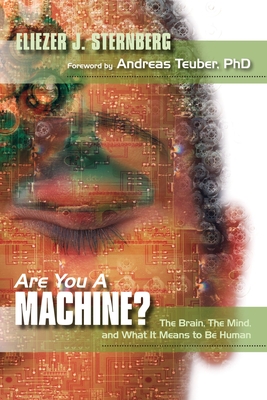 $24.69

Comes From Our Warehouse - Usually Ships in 3-10 Days
Description
---
Right now, someone in an artificial intelligence lab is fusing silicon circuitry in an attempt to engineer the human mind. In a hospital, a neurosurgeon is attempting to influence a patient's emotions by firing electrical impulses into his brain. In a classroom, a teacher is explaining how neurons in the brain interact to generate thoughts, feelings, and decisions.

The question of where consciousness comes from and how it works is likely the greatest mystery we face. Despite progress in our knowledge of the brain, we still don't know how it allows us to do things like enjoy a sunset, solve a math problem, or use our imagination. For those of us who have ever thought about issues of the mind or free will, these developments pose provocative questions.

What would happen if those mysterious processes could be understood? Would a scientist be able to know everything about our minds just from studying the systems in our brains? Could he predict how we will think and act? After all, the brain is an organ just like the heart or stomach, and scientists can figure out when the heart will beat and when the stomach will release bile. If such a thing could be accomplished, would that make me a machine?

There are those who approach this question from a technological perspective. Someday, an engineer might be able to build a robot with my memories, opinions, and behavior. Would that make me a machine?

This concise, lucid primer on neuroscience and philosophy of mind takes the reader to the very depths of the mystery of consciousness, exploring it through the eyes of key philosophers, neuroscientists, and technologists. Avoiding jargon and oversimplification, author Eliezer J. Sternberg illuminates baffling questions of the brain, mind, and what it means to be human.
About the Author
---
Eliezer J. Sternberg, MD, is a resident neurologist at Yale-New Haven Hospital. With a background in neuroscience and philosophy, he studies how brain research can shed light on the mysteries of consciousness and decision making.  He is the author of Are You a Machine? and My Brain Made Me Do It.
Praise For…
---
"Consciousness is a major neuroscience mystery. Since bright, ambitious young people have solved many of our scientific mysteries, this young man's remarkable synthesis of current consciousness theory and research shouldn't surprise us. I expect that this book is simply the first of many contributions Elie Sternberg will make during his career."

Robert Sylwester, Emeritus Professor of Education
University of Oregon, author of How To Explain a Brain
Columnist for the online journal "Brain Connection"

"Elie Sternberg gives a fascinating and accurate account of the issues and arguments for and concerning the possibility of intelligent computers. His book is not only exciting reading, it also shows good judgment in helping the reader decide which arguments to accept."

Hubert Dreyfus, University of California, Berkeley
Philosopher and author of What Computers Still Can't Do