Torpor, New Edition (Semiotext(e) / Native Agents) (Paperback)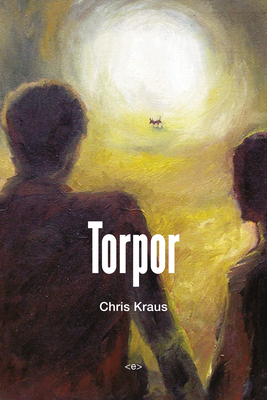 $16.95
Email or call for price.
Description
---
In 1991, unhappily married Sylvie and her husband set off on a journey across Eastern Europe in search of a Romanian orphan to adopt.
Sylvie wanted to believe that misery could simply be replaced with happiness. Time was a straight line, stretching out before you. If you could create a golden kind of time and lay it right beside the other time, the time of horror, Bad History could just recede into the distance without ever having to be resolved.
--from Torpor
Set at the dawn of the New World Order, Chris Kraus's third novel, Torpor loops back to the beginning of the decade that was the basis of I Love Dick, her pseudo-confessional cult-classic debut. It's summer, 1991, post-MTV, pre-AOL. Jerome Shafir and Sylvie Green, two former New Yorkers who can no longer afford an East Village apartment, set off on a journey across the entire former Soviet Bloc with the specious aim of adopting a Romanian orphan. Nirvana's on the radio everywhere, and wars are erupting across Yugoslavia.
Unhappily married to Jerome, a 53-year-old Columbia University professor who loathes academe, Sylvie thinks only of happiness. There are only two things, Sylvie thinks, that will save them: a child of their own, and the success of The Anthropology of Unhappiness, her husband's long-postponed book on the Holocaust. But as they move forward toward impoverished Romania, Jerome's memories of his father's extermination at Auschwitz and his own childhood survival impede them. Savagely ironic and deeply lyrical, Torpor is Kraus's most personal novel to date.
About the Author
---
Chris Kraus is the author of four novels, including I Love Dick and Summer of Hate; two books of art and cultural criticism; and most recently, After Kathy Acker: A Literary Biography. She received the College Art Association's Frank Jewett Mather Award in Art Criticism in 2008, and a Warhol Foundation Art Writing grant in 2011. She lives in Los Angeles. Fanny Howe is the author of several works of fiction (most recently, Economics from Flood Editions) and collections of poems, including One Crossed Out and Gone. She is the winner of the 2000 Lenore Marshall Award for her Selected Poems. Her first collection of essays, The Wedding Dress, was published by UC Press in the Fall of 2003. She lives in Massachusetts but remains Professor Emeritus at UCSD in the Department of Literature. McKenzie Wark (she/her), awarded the 2019 Thoma Prize for writing in digital art, is the author of A Hacker Manifesto Gamer Theory, and The Beach Beneath the Street. Wark's correspondence with Kathy Acker was published by Semiotext(e) as I'm Very Into You.