How to Draw Cats and Kittens: A Complete Guide for Beginners (Paperback)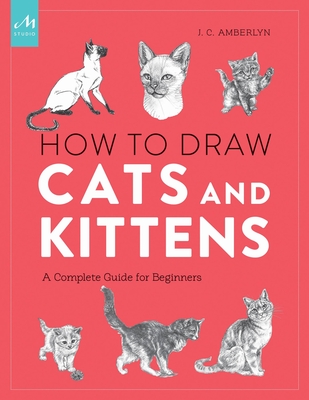 Description
---
In this step-by-step guide, J. C. Amberlyn combines her love of cats with her beautiful, detailed drawing style in order to teach beginning artists to draw many different breeds of cats and kittens in pencil and pen-and-ink.
 
Cats are creatures of beauty and mystery. They live among us but have never quite been tamed, drawing the ire of some and the admiration of others. They keep rodents away from our homes and offer purring companionship for those they have deemed worthy of their attention. The feline form exudes grace and flexibility and can be a joy to draw.
 
How to Draw Cats and Kittens continues a rich tradition of cats in art. Covering all the most popular types of cats, as well as kittens, this book gives easy-to-follow instructions for drawing cats in many poses and a variety of expressions. Amberlyn includes basic information on art materials and the fundamental mechanics of drawing so that even beginners will feel confident and successful as they learn to produce highly detailed, lifelike drawings of their fluffy companions.
About the Author
---
J. C. Amberlyn is an award-winning artist, animator, graphic novelist, photographer, naturalist, and animal lover. She's also the author of five successful art instruction titles: How to Draw Dogs and Puppies; How to Draw Manga Characters; Drawing Manga Animals, Chibis, and Other Adorable Creatures; The Artist's Guide to Drawing Animals; and Drawing Wildlife.
Praise For…
---
"How to Draw Cats and Kittens is a joy just to browse through and admire the gorgeous illustrations. This is a wonderful book for children who are budding artists, and adults who are trying to rediscover their creative side."—Ingrid King, The Conscious Cat