Ten Years to Midnight: Four Urgent Global Crises and Their Strategic Solutions (Hardcover)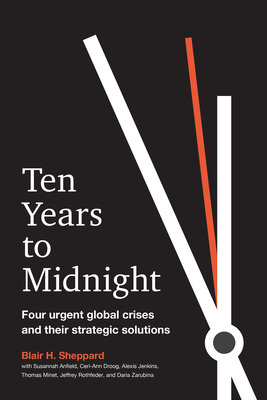 $26.95

Comes From Our Warehouse - Usually Ships in 3-10 Days
Description
---
"Shows how humans have brought us to the brink and how humanity can find solutions. I urge people to read with humility and the daring to act."
--Harpal Singh, former Chair, Save the Children, India, and former Vice Chair, Save the Children International

In conversations with people all over the world, from government officials and business leaders to taxi drivers and schoolteachers, Blair Sheppard, global leader for strategy and leadership at PwC, discovered they all had surprisingly similar concerns. In this prescient and pragmatic book, he and his team sum up these concerns in what they call the ADAPT framework: Asymmetry of wealth; Disruption wrought by the unexpected and often problematic consequences of technology; Age disparities--stresses caused by very young or very old populations in developed and emerging countries; Polarization as a symptom of the breakdown in global and national consensus; and loss of Trust in the institutions that underpin and stabilize society. These concerns are in turn precipitating four crises: a crisis of prosperity, a crisis of technology, a crisis of institutional legitimacy, and a crisis of leadership.

Sheppard and his team analyze the complex roots of these crises--but they also offer solutions, albeit often seemingly counterintuitive ones. For example, in an era of globalization, we need to place a much greater emphasis on developing self-sustaining local economies. And as technology permeates our lives, we need computer scientists and engineers conversant with sociology and psychology and poets who can code. The authors argue persuasively that we have only a decade to make headway on these problems. But if we tackle them now, thoughtfully, imaginatively, creatively, and energetically, in ten years we could be looking at a dawn instead of darkness.
About the Author
---
Blair H. Sheppard is the global leader for strategy and leadership at PwC, a network of professional services firms committed to building trust in society and solving important problems. He is also professor emeritus and dean emeritus of Duke University's Fuqua School of Business. During his time at Duke, he was the founding CEO and chairman of Duke Corporate Education and was the principal force behind opening Duke's campus in China. Five of the coauthors are directors in global strategy and leadership at PwC and one is a leading business journalist
Praise For…
---
"Unnervingly real with compelling hope. Sheppard's book shows how humans have brought us to the brink and how humanity can find solutions. I urge people to read with humility and the daring to act."
—Harpal Singh, former Chair, Save the Children India, and former Vice Chair, Save the Children International
 
"An interconnected global economy has lifted a record number of people out of poverty but also triggered a wave of disruptive forces within and between countries that threaten the sustainability of the existing system. Sheppard cogently outlines the issues and lays out a framework of potential solutions that the people across the globe who most benefited from the last seventy years would be wise to embrace."
—Alan Schwartz, Executive Chairman, Guggenheim Partners
 
"A sense of urgency but also of opportunity is the takeaway from this profound book by Blair Sheppard. He combines in-depth knowledge of global affairs, strategic thinking, and experience advising leaders all over the world to find solutions for very diverse issues and sectors. We are living in uncertain times, and if we do not succeed in solving the crises we face before midnight—2030—we will be left in the dark. So let's get started: there are no excuses after reading this book."
—Julia Pomares, Executive Director, CIPPEC
 
"A remarkable tale based on the author's real-world leadership experience across the globe, view of the seemingly overwhelming challenges facing us all, and ultimately, optimism on the path forward."
—Dr. Yinuo Li, World Economy Forum Young Global Leader and former Partner, McKinsey

"An impressively informative, thought-provoking, and meticulously detailed work of original and seminal collective scholarship…an invaluable contribution to our national and international dialogue with respect to Environmental Economics, Government Management, and Strategic Business Planning." —Midwest Book Review