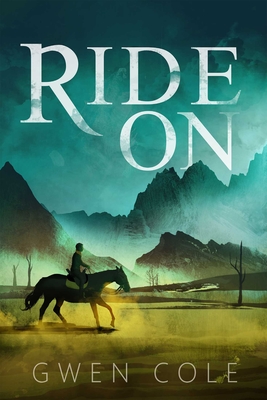 Staff Reviews
---
A post-apocalyptic Young Adult western? Yes, please!
Ride On is one of my favorite books this year, and I am in love with both Seph and Avery (and Cade, who might be the coolest literary horse since Misty of Chincoteague). Set in a future where the sun doesn't shine and outlaws and lawmen both obey their own rules, this is part West World, part Tombstone, and all Amazing! Westerns aren't even my usual genre, but this one had me questioning why I don't read them more (the answer is I will if Gwen writes more).
— From
Katie
Description
---
Some people call him an outlaw, and others call him a cowboy, but Seph doesn't really care which they use?he only wants to be left alone.
Meanwhile, Avery, lost without her brother, Finn, must figure out how to survive in the Wild if she's going to rescue him and could use all the help she can get.
One morning, Seph is taken prisoner?chained to the ground and stared down by the most organized gang he's ever crossed. He knows it won't be easy to escape this time, but he does just that?and runs straight into Avery.
Set in a world where the sky is always gray and its people are constantly searching for the sun, Ride On follows two teens who cross paths when the odds are against them.
The farther they ride to catch up to the Lawmen, the gang controlling most of Texas and those responsible for taking Avery's brother, the more dangerous it gets. Seph rides to help Avery, but his past quickly catches up to him and things manage to take a turn for the worse.
After years of burying the ghost of revenge, Seph now has no choice but to face it. The only thing that matters in the Wild is how quick your draw is, and Seph can only hope his is fast enough?for his sake and Avery?s.
,
About the Author
---
Gwen Cole grew up in upstate New York and then moved to Virginia, where she did not graduate college. Instead she played bass guitar in a hardcore band and later married the lead guitarist. She enjoys large jigsaw puzzles, playing Xbox, and watching movies. Gwen now lives in Richmond with her husband, daughter, and very large dog, but she longs to live in the country again.