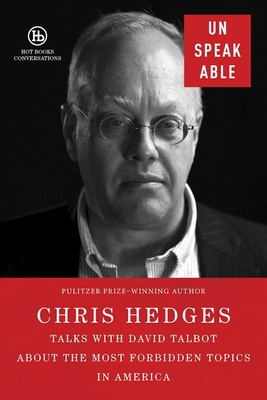 $16.99

Comes From Our Warehouse - Usually Ships in 3-10 Days
Description
---
"Hedges insights and opinions—which have been hard-earned over a tumultuous career of covering war and revolution, suffering and liberation—should be part of our national debate."—New York Times Bestselling author David Talbot, from his Introduction
Chris Hedges is an intellectual bomb thrower. The kinds of insights he provides into the troubled state of our democracy cannot be found anywhere else. Like many of our most important thinkers, he has been relegated to the margins because of ideas deemed too radical—or true—for public consumption. What does he think about?
The Mellons, Rockefellers, Carnegies, and Morgans started out as gangsters,
Some "war" reporters only report what the US Embassy and the military feed them.
Spending time in Gaza for a fresh take on the Israeli-Palestinian conflict.
Donald Trump
And more!
Hedges here speaks up about the most pressing issues currently facing our nation. If we are to combat the intellectual and moral decay that have come to grip American life, we must listen to Chris Hedges and the urgent message he brings in this book.
About the Author
---
David Talbot is the New York Times bestselling author of Brothers: The Hidden History of the Kennedy Years and The Devil's Chessboard. He is the founder and former editor-in-chief of Salon and has written for the New Yorker, Rolling Stone, and Time. He lives in San Francisco.
Praise For…
---
"A long-running commentary on the many issues Hedges confronts in his writing, including war, Occupy Wall Street, and the New York Times' relationship to organs of state power . . . It's bracing to hear Hedges's unfiltered dissent and disdain, from his dismissal of George W. Bush as 'a man of limited intelligence and dubious morals' to his discussion of how the seductions of celebrity undermined Christopher Hitchens's writing." ?Publishers Weekly

"[Hedges] insights and opinions?which have been hard-earned over a tumultuous career of covering war and revolution, suffering and liberation?should be part of our national debate." ?David Talbot

"Chris Hedges fearlessly tells his own 'forbidden' stories. . . . The Pulitzer Prize?winning journalist tells how he saw firsthand 'how the elites and the children of the elites treated those 'beneath them.'" ?Alternet

"Like early twentieth-century muckraking journalists and, more recently, I.F. Stone, Hedges makes a boisterous outspoken contribution to revolutionizing the national conversation." ?Kirkus Reviews

"A long-running commentary on the many issues Hedges confronts in his writing, including war, Occupy Wall Street, and the New York Times' relationship to organs of state power . . . It's bracing to hear Hedges's unfiltered dissent and disdain, from his dismissal of George W. Bush as 'a man of limited intelligence and dubious morals' to his discussion of how the seductions of celebrity undermined Christopher Hitchens's writing." ?Publishers Weekly

"[Hedges] insights and opinions?which have been hard-earned over a tumultuous career of covering war and revolution, suffering and liberation?should be part of our national debate." ?David Talbot

"Chris Hedges fearlessly tells his own 'forbidden' stories. . . . The Pulitzer Prize?winning journalist tells how he saw firsthand 'how the elites and the children of the elites treated those 'beneath them.'" ?Alternet

"Like early twentieth-century muckraking journalists and, more recently, I.F. Stone, Hedges makes a boisterous outspoken contribution to revolutionizing the national conversation." ?Kirkus Reviews