The Unprotected: A Novel (Hardcover)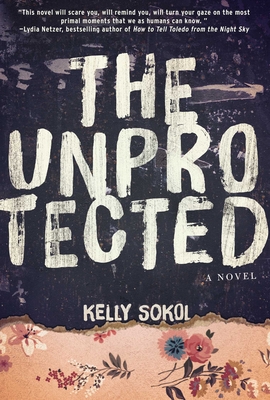 $24.99
Email or call for price.
Description
---
A compelling debut novel exploring postpartum depression—for readers of suspenseful women's fiction and fans of Lionel Shriver's We Need to Talk About Kevin.

They say motherhood changes you.

As a driven advertising executive, Lara James has always put her career before any plans for a family, preferring professional chic to stay-at-home style. But after her father's death, she realizes she's ready. More than ready, in fact. Yet pregnancy—something other women seem to accomplish effortlessly, even accidentally—doesn't come easily to Lara. What began as an adventure quickly becomes a nightmare as she and her husband endure endless IVF treatments, hormone therapy, and devastating miscarriages.

When Lara at last becomes pregnant and gives birth to a daughter, Auden, she believes their determination has paid off. But Auden cries day and night, ear-shattering screams that strip Lara of her nerves and energy. Her life as a sleep-deprived new mother is unrelenting, and, guiltily, Lara can't help but mourn for what she once had. With her marriage crumbling, Lara is increasingly driven to alarming thoughts and destructive actions she would never have imagined possible before now. Hanging on by a thread, it's only in her darkest moment that Lara will discover the true depths of her love and devotion—and what she's willing to face for the family she's so desperately sought.

At times disturbing, The Unprotected is a bold, unflinching novel for anyone who's ever wanted children—and wondered what they might have to sacrifice along the way.
About the Author
---
Kelly Sokol is an MFA-Creative Writing graduate with a concentration in fiction from Goddard College, where she studied with John McManus, Rahna Reiko Rizzuto, and Darcey Steinke. She has been featured on NPR, discussing the portrayal of motherhood and postpartum depression in fiction. She teaches creative writing at The Muse Writers Center. Her work has been nominated for a Pushcart Prize. She resides in Norfolk, Virginia.
Praise For…
---
Praise for Kelly Sokol's The Unprotected:

"[An] engrossing debut . . . Motherhood is not a one-size-fits-all proposition, and Sokol's streamlined prose takes an unflinching look at an illness that is still treated as taboo."—Publishers Weekly
"An unflinching look at one woman's quest to achieve domestic bliss behind the glossy, milk-stained haze of Pinterest-perfect mommy culture." -Booklist

"An often vivid portrait of a conflicted mother"-Kirkus

"Sokol dissects the darkest parts of pregnancy and motherhood, laying them open and exposed right next to the sweetest and the brightest. This novel will scare you, will remind you, will turn your gaze on the most primal moments that we as humans can know. Sokol writes with authority and spirit, and her characters will stay with me for a long time." - Lydia Netzer, bestselling author of How to Tell Toledo from the Night Sky

"It doesn't stop. The swirl of sexual tension and anxiety, of soaring happiness and then the disorienting vortex into the darkest of fears. In The Unprotected, Kelly Sokol carries readers' thudding hearts into the stripped bare depths of post-partum depression, and redeems us all when she finally says yes to help. This is a story that resonates, that haunts, that tells a truth too long kept hidden." - Janine Latus, international bestselling author of If I Am Missing or Dead

"In this gripping, relentless story of one woman's quest for parenthood, Kelly Sokol sees with devastating clarity into her hero's growing desperation. The Unprotected is a brave and beautiful novel." - John McManus, author of Fox Tooth Heart

"Kelly Sokol writes like a banshee, reminding us to be forever careful what we wish." - Ellen Bryson, author of The Transformation of Bartholomew Fortuno

"Elena Ferrante has said so much work has yet to be done to show the full range of the female experience. Here in The Unprotected, Kelly Sokol lays bare the complexity of childbirth and its aftermath. In tight prose that moves forward with a sense of both empathy and tragedy, Sokol is brutally honest but also heart-movingly engaging. Read this book." - Darcey Steinke, author of Sister Golden Hair
"Sokol has an obvious ease with language." - The Virginian-Pilot

Praise for Kelly Sokol's The Unprotected:

"[An] engrossing debut . . . Motherhood is not a one-size-fits-all proposition, and Sokol's streamlined prose takes an unflinching look at an illness that is still treated as taboo."—Publishers Weekly
"An unflinching look at one woman's quest to achieve domestic bliss behind the glossy, milk-stained haze of Pinterest-perfect mommy culture." -Booklist

"An often vivid portrait of a conflicted mother"-Kirkus

"Sokol dissects the darkest parts of pregnancy and motherhood, laying them open and exposed right next to the sweetest and the brightest. This novel will scare you, will remind you, will turn your gaze on the most primal moments that we as humans can know. Sokol writes with authority and spirit, and her characters will stay with me for a long time." - Lydia Netzer, bestselling author of How to Tell Toledo from the Night Sky

"It doesn't stop. The swirl of sexual tension and anxiety, of soaring happiness and then the disorienting vortex into the darkest of fears. In The Unprotected, Kelly Sokol carries readers' thudding hearts into the stripped bare depths of post-partum depression, and redeems us all when she finally says yes to help. This is a story that resonates, that haunts, that tells a truth too long kept hidden." - Janine Latus, international bestselling author of If I Am Missing or Dead

"In this gripping, relentless story of one woman's quest for parenthood, Kelly Sokol sees with devastating clarity into her hero's growing desperation. The Unprotected is a brave and beautiful novel." - John McManus, author of Fox Tooth Heart

"Kelly Sokol writes like a banshee, reminding us to be forever careful what we wish." - Ellen Bryson, author of The Transformation of Bartholomew Fortuno

"Elena Ferrante has said so much work has yet to be done to show the full range of the female experience. Here in The Unprotected, Kelly Sokol lays bare the complexity of childbirth and its aftermath. In tight prose that moves forward with a sense of both empathy and tragedy, Sokol is brutally honest but also heart-movingly engaging. Read this book." - Darcey Steinke, author of Sister Golden Hair
"Sokol has an obvious ease with language." - The Virginian-Pilot