Grace and Justice on Death Row: The Race against Time and Texas to Free an Innocent Man (Hardcover)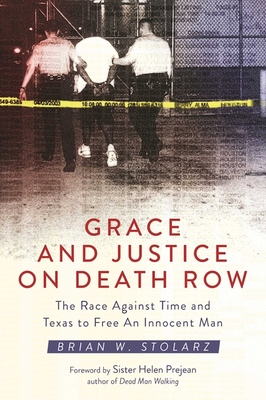 $24.99
Not available for purchase
Description
---
A Washington Post bestseller!

A chilling and compassionate look at how close an innocent man was to being put death with a foreword by Sister Helen Prejean, author of Dead Man Walking.

What is worse than having a client on Death Row in Texas? Having a client on Death Row in Texas who is innocent and not knowing if you will be able to stop his execution in time.

Grace and Justice on Death Row: A Race Against Time to Free an Innocent Man tells the story of Alfred Dewayne Brown, a man who spent over twelve years in prison (ten of them on Texas' infamous Death Row) for a high-profile crime he did not commit, and his lawyer, Brian Stolarz, who dedicated his career and life to secure his freedom. The book chronicles Brown's extraordinary journey to freedom against very long odds, overcoming unscrupulous prosecutors, corrupt police, inadequate defense counsel, and a broken criminal justice system. The book examines how a lawyer-client relationship turned into one of brotherhood.

Grace And Justice On Death Row also addresses many issues facing the criminal justice system and the death penalty – race, class, adequate defense counsel, and intellectual disability, and proposes reforms.

Told from Stolarz's perspective, this raw, fast-paced look into what it took to save one man's life will leave you questioning the criminal justice system in this country. It is a story of injustice and redemption that must be told.
About the Author
---
Brian W. Stolarz is a criminal defense attorney. He's worked for the prominent white-collar criminal defense boutique in New York, Morvillo, Abramowitz, Grand, Iason & Anello, and the international law firm, K&L Gates LLP, in Washington, D.C. Stolarz was also a Staff Attorney for the Criminal Defense Division of The Legal Aid Society in Brooklyn, New York, where he served as counsel to hundreds of indigent defendants facing all types of criminal offenses.

Stolarz has received several awards for his dedication to pro bono service, including the Pro Bono Legal Service Award from the John Carroll Society and the 2014 Caritas Award, the highest honor awarded by Catholic Charities of the Archdiocese of Washington in recognition of work for the indigent and oppressed.

Stolarz is a member of the Criminal Justice Act Felony Panel in the United States District Court for the District of Columbia and the District of Maryland, a member of the Alumni Council of the Catholic University of America, Columbus School of Law, and a member of the Board of Directors of Texas Defender Service.

Currently a partner with LeClair Ryan in Alexandria, Virginia, Stolarz is the head of the Compliance, Investigations, and White Collar Practice Team. This is his first book. He lives in Alexandria with his wife, a former prosecutor, and their three children.
Praise For…
---
Foreword by Sister Helen Prejean, author of Dead Man Walking.

Excerpts from foreword:
"His (Brian Stolarz) ability to examine and explain his feelings and motives while telling us the details of the case is what makes this book so compelling."

"When you read Grace and Justice on Death Row, and then realize how many other inmates have been exonerated from their accused crimes, I hope you'll agree we simply can no longer put to death those who may later be found innocent."
—From the foreword by Sister Helen Prejean, author of Dead Man Walking

Grace and Justice on Death Row isn't just about how our broken system almost broke another decent man. More than that, it's a moving story of a unique brotherhood that's formed when a corporate lawyer with his faith bitterly tested literally saves another man's life. Instead of living bitterly and justifiably mad, Dewayne Brown finds forgiveness. His story will make you a better person."
—Craig Melvin, MSNBC news anchor and Today show national correspondent

"Brian Stolarz's nuanced account of how he proved the innocence of a man on Death Row provided crucial insight into the terrible injustices of the American death penalty process. But at its core, this is a tale of one man's unwavering faith in another human being."
—Colby Itkowitz, Washington Post

"This is a story of a white middle class lawyer and an indigent black man who became brothers all in the name of freeing an innocent man from death row. It is a great human interest story highlighted by what can happen when care for another supersedes almost everything else."
—Monsignor John Enzler, CEO of Catholic Charities for the Archdiocese of Washington

"I was on Death Row in Texas for 12 and a half years. - Grace and Justice on Death Row tells the story of such courage and of redemption for Alfred Dewayne Brown, who, like me, is an innocent man."
—Anthony Graves, 12th Exoneree from Texas' Death Row and 138th Exoneree Nationally

Foreword by Sister Helen Prejean, author of Dead Man Walking.

Excerpts from foreword:
"His (Brian Stolarz) ability to examine and explain his feelings and motives while telling us the details of the case is what makes this book so compelling."

"When you read Grace and Justice on Death Row, and then realize how many other inmates have been exonerated from their accused crimes, I hope you'll agree we simply can no longer put to death those who may later be found innocent."
—From the foreword by Sister Helen Prejean, author of Dead Man Walking

Grace and Justice on Death Row isn't just about how our broken system almost broke another decent man. More than that, it's a moving story of a unique brotherhood that's formed when a corporate lawyer with his faith bitterly tested literally saves another man's life. Instead of living bitterly and justifiably mad, Dewayne Brown finds forgiveness. His story will make you a better person."
—Craig Melvin, MSNBC news anchor and Today show national correspondent

"Brian Stolarz's nuanced account of how he proved the innocence of a man on Death Row provided crucial insight into the terrible injustices of the American death penalty process. But at its core, this is a tale of one man's unwavering faith in another human being."
—Colby Itkowitz, Washington Post

"This is a story of a white middle class lawyer and an indigent black man who became brothers all in the name of freeing an innocent man from death row. It is a great human interest story highlighted by what can happen when care for another supersedes almost everything else."
—Monsignor John Enzler, CEO of Catholic Charities for the Archdiocese of Washington

"I was on Death Row in Texas for 12 and a half years. - Grace and Justice on Death Row tells the story of such courage and of redemption for Alfred Dewayne Brown, who, like me, is an innocent man."
—Anthony Graves, 12th Exoneree from Texas' Death Row and 138th Exoneree Nationally