Lonergan, Meaning and Method: Philosophical Essays (Paperback)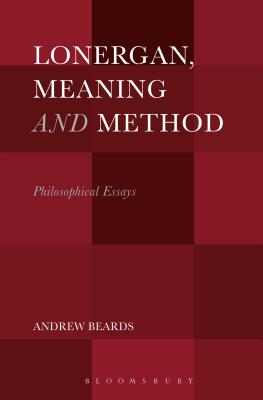 $58.44

Comes From Our Warehouse - Usually Ships in 3-10 Days
Description
---
Bernard Lonergan (1904-84) is acknowledged as one of the most significant philosopher-theologians of the 20th century. Lonergan, Meaning and Method in many ways complements Andrew Beards' previous book on Lonergan, Insight and Analysis (Bloomsbury, 2010). Andrew Beards applies Lonergan's thought and brings it into critical dialogue and discussion with other contemporary philosophical interlocutors, principally from the analytical tradition. He also introduces themes and arguments from the continental tradition, as well as offering interpretative analysis of some central notions in Lonergan's thought that are of interest to all who wish to understand the importance of Lonergan's work for philosophy and Christian theology.

Three of the chapters focus upon areas of fruitful exchange and debate between Lonergan's thought and the work of three major figures in current analytical philosophy: Nancy Cartwright, Timothy Williamson and Scott Soames. The discussion also ranges across such topics as meaning theory, metaphilosophy, epistemology, philosophy of science and aesthetics.
About the Author
---
Andrew Beards is Academic Director at the School of the Annunciation, a Catholic Institute of higher education at Buckfast Abbey, UK. He is the author of Objectivity and Historical Understanding (1997), Method in Metaphysics: Lonergan and the Future of Analytical Philosophy (2008), Insight and Analysis (2010), and Philosophy the Quest for Truth and Meaning (2010).