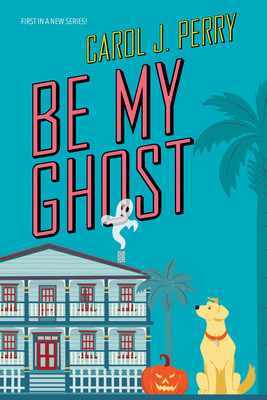 Staff Reviews
---
First in the new Haunted Haven series, this cozy really charmed me! Maureen Doherty, a sportswear buyer for a department store that has recently shut its doors, and her golden retriever Finn have decided to leave Boston for sunny Florida where Maureen has mysteriously inherited an old inn. I could almost feel and smell the sea spray and the sand of this Gulf of Mexico coastal village. The long-time residents of the hotel (both alive and dead) and various guest and townspeople are meticulously drawn and provide a large pool of suspects for the murder victim. The mystery elements are great, but it's the attention to scenic and character detail that has me clamoring for the next installment! Fun!
— From
Kelly
Description
---
Maureen Doherty and her golden retriever Finn have taken possession of a charming old inn--only to discover that it's already possessed by tenants whose lease on life already ran out . . . Maureen's career as a sportswear buyer hits a snag just before Halloween, when the department store declares bankruptcy. Meanwhile, Finn's lost his way as a guide dog after flunking his test for being too friendly and easily distracted. Sadly, only one of them can earn unemployment, so Maureen's facing a winter of discontent in Boston--when she realizes she can't afford her apartment. Salvation comes when she receives a mysterious inheritance: an inn in Haven, Florida. A quaint, scenic town on the Gulf of Mexico hidden away from the theme parks, Maureen believes it's a good place to make a fresh start with a new business venture. But she gets more than she bargained for when she finds a dead body on her property--and meets some of the inn's everlasting tenants in the form of ghosts who offer their otherworldly talents in order to help her solve the mystery...
About the Author
---
Carol J. Perry knew as a child that she wanted to be a writer. A voracious reader, whose list for Santa consisted mostly of book titles, she never lost sight of that goal. While living in Florida, Carol was on assignment for Southern Travel Magazine, preparing an article on the world's tallest sand castle which was being built near her home. That combination of events inspired her first young adult novel, Sand Castle Summer. That book was soon followed by half a dozen more. Carol and her husband Dan live in the Tampa Bay area of Florida with two cats and a Black Lab. Visit her at caroljperry.com.